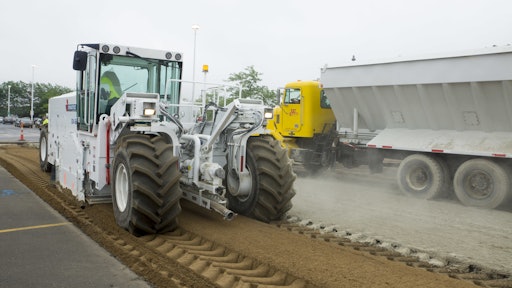 To contend with a rocky, pothole, washboard worksite, it's likely the first piece of heavy equipment to be of value will be a soil stabilizer-reclaimer. These machines do wonders on smoothing out and stabilizing everything from old dirt-gravel roads to complete jobsites with rough terrain.
A soil stabilizer-reclaimer is also used for mixing lime, fly ash or cement with existing materials to improve soils and strengthen sub-surfaces in preparation for backfill, anti-frost layers and base layers.
Roadtec Inc. introduces the SX-6e/ex soil stabilizer-reclaimer, which sits in the mid-size spot of its relatively recently introduced family of four different size soil stabilizer-reclaimer machines. The SX-6 cuts up to 20 in. deep and 100 in. wide.           
The machine is equipped with a Tier 4 interim 6-cylinder, 600-hp Cummins QSX15 diesel engine that is engineered to provide power to the rotor through a direct drum drive. The engine compartment is fully sealed which is designed to prevent infiltration by dirt or dust from soil binders.
With shipping weight of 68,000 lbs., the Roadtec SX-6e/ex is designed to be balanced evenly for maximum traction. Four cutting speeds and right-hand flush cut allow it to be used for a range of projects including stabilizing, pulverizing, or cold recycling. An industry-exclusive air-shift transmission for the cutter speeds means that the operator can shift to different rpms on the cutter drum depending on application need.
Notable features include:
Hydraulically controlled suspension, which allows the depth of cut to be selected via push button
Built on a sealed, strong, rigid box frame that allows controlled air flow while maintaining durability
The fully-enclosed operator compartment (with heat and air conditioning) shifts 18-inches to the right of center and the operator seat slides laterally and swings 90-degrees for increased visibility
A rear-mounted camera is designed to provide full visibility and safety when backing up
The variable geometry cutter housing arrangement of the SX-6e/ex is designed to position the cutter in a way that promotes material sizing as well as the flow of the material. Heavy-duty front and rear doors are hydraulically adjustable for additional control of gradation and flow.
The Roadtec SX-6e/ex soil stabilizer-reclaimer is designed for performing road rehabilitation, cold recycling or soil stabilization.