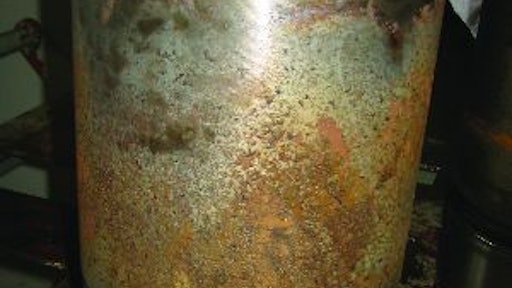 Stede Granger, OEM technical manager for Shell Lubricants, acknowledges that extended-life coolants are a little more expensive than their conventional counterparts. "But I can also tell you that anybody who does the analysis finds out that ELCs are much cheaper in the long run," he states.
The cost of a conventional coolant includes the SCAs and the manpower for testing and adding SCAs, he points out. Plus, ELCs promise longer water pump life and better heat transfer.
Caterpillar factory fills its machines with ELC. "Caterpillar has seen many types of issues drastically reduced with the advent of Cat Extended Life Coolant," says Jared Parsons, Fluids Engineer. "Maintaining coolant chemistry is drastically simplified, while also lowering maintenance costs and extending the coolant drain interval."
A difference in additives
An ELC uses a different chemistry for the inhibitor package. These inhibitors don't deplete like they do in a conventional coolant. "It uses what we call Organic Acid Technology (OAT)," says Granger. "ELCs protect against corrosion in a much different manner than conventional coolants. The core chemistry prevents against liner pitting. Maintaining the nitrite in the ELC coolant is just not as critical as it is in the conventional silicate coolants."
ELCs do not plate out on the heat transfer surfaces. The additive is actually attracted to corrosion cells through electro-chemical attraction. "As a result, we only use molecules instead of using massive amounts of additives to coat the surface," says Granger. There is also no film on the surfaces to impede heat transfer. "In the lab, we can really see the difference between a conventional coolant and an ELC."
Because of the differences, Parsons cautions against introducing additional additives. "Be sure you do not use an SCA if you are using an ELC product that does not require it," he advises. "If you add SCA to an ELC, you potentially have issues with the additives dropping out of solution and causing problems like plugging of passages or wear to the water pump seal."
Likewise, the cooling system should be flushed before switching from a conventional coolant to an ELC. "Systems to be converted from conventional coolant to ELC often [require] a cooling system cleaning first to remove inhibitor deposits put in place by the conventional coolant," says Parsons.
While ELCs do not need to be checked as frequently as conventional coolant, that doesn't mean they can be ignored. "Even when running ELCs, I recommend at least taking a look at the coolant, even if no formal tests are conducted," Parsons suggests. "Check for strange odors, such as a burnt odor, that may indicate a problem. Also check for visible particles in the coolant that can also indicate a problem."
Proper concentration must also be maintained. Granger advises using a refractometer to calculate an accurate freeze point. "Because glycol has a different refractive index than water, we can very accurately determine freeze point in the field," he notes.
"The No. 1 item in maintaining an ELC coolant is the freeze protection," he continues. "If you don't maintain the freeze protection, you are basically diluting the additives. Once you get to the point where you have too much water, you lose the corrosion protection in the additive. The freeze point in July is just as important as the freeze point in January to maintain the proper level of additive."
Optimized to the machine
For the "ultimate" in cooling system and machine performance, consider using OEM fluids.
"Like most OEMs, we recommend that our customers use Komatsu genuine coolant for our products," says Yukiyasu Endou, director technical service, Komatsu America Corp. "We work closely in partnership with our coolant suppliers and conduct many internal tests to make sure we have the best balance to minimize failure and maximize durability for our machines."
Manufacturers also publish maintenance guidelines based on these fluids. "We recommend cleaning the system and changing the coolant every two years or every 4,000 hours, whichever comes first, when the customer uses Komatsu genuine super coolant," says Endou, "and every year or 2,000 hours, whichever comes first, when using Komatsu genuine coolant with corrosion resistor." Corrosion resistor should be added every 1,000 hours.
Volvo serves as a good example of why you should stick with OEM coolant recommendations. "We have Volvo Coolant System (VCS) coolant," says Randy Bushelli, customer support service and training manager, Volvo Construction Equipment. "It is a monoethylene glycol (OAT) specific to Volvo machines. Basically it has doubled, and in some cases tripled, maintenance intervals for the coolant. It has actually helped the integrity of poorly maintained cooling systems. It will last longer than ELCs."
But care must be taken when topping off monoethylene glycol, since it is not compatible with ethylene glycol-based products. You need to know what is in the cooling system and top it off with the coolant that is specified.
And switching coolant types may prove ill advised. "For a large customer who wants one common coolant in all engines, care must be taken to research the positive and negative effects that change may have on all engines," says Bushelli.