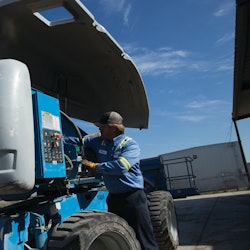 United Rentals
As worksites grow more complex and equipment continues to evolve, budgets and timelines get tighter, downtime is more problematic and controlling the total cost of ownership becomes more important.
When a single piece of equipment fails, the costs in terms of lost productivity and wasted wages can be monumental – not to mention the impact to the project schedule. Regular preventive maintenance, along with prompt repair, is so critical to construction contractors and bottom lines.
Yet maintaining a large fleet isn't easy. And finding, and keeping, qualified technicians can increase the burden. Add to that the challenge of keeping up with equipment inspections, especially when equipment is moving from jobsite to jobsite, and a company has a complex undertaking to address.
One possible solution: outsourcing. However, outsourcing often means balancing multiple companies that specialize in different types of vehicles or equipment. Plus, when a contractor's equipment moves or when needs change, those service providers may be out of reach. Fleet managers end up having to shop around for service and contend with unpredictable labor rates, which could ultimately result in preventive maintenance tasks and inspections falling through the cracks.
The speed at which a third-party provider can complete service could also be an issue. Waiting days or weeks for a necessary piece of equipment to be fixed can really set a project back – as can discovering, when it breaks again, that shortcuts were taken.   
The challenge for contractors is finding an equipment maintenance service provider that delivers fast, dependable equipment service both locally and nationwide. That provider should be a one-stop shop that offers standardized processes and rates, helping to take the maintenance and repair burden off fleet owners. This approach can deliver to contractors the peace of mind that comes with knowing that equipment will be ready to perform when it is needed.
Let's look at three important ways an equipment maintenance management provider can help.
1. Preventive Maintenance, Fast Repair
With equipment maintenance services, preventive maintenance can be carried out proactively by the provider on a regular schedule. Wear on parts can be identified before it leads to costly failures. And if a piece of equipment fails, it can be fixed quickly. Ideally, the provider should be available to rent a replacement unit if a critical piece of equipment will be out of commission for an extended period.
An emerging capability is providers will leverage field automated dispatching systems to track contractor locations on a map, dispatch technicians and communicate quickly and efficiently. And increasingly, providers will offer cloud-based worksite management systems that enable a contractor to see at a glance which equipment is under a maintenance plan. Available information can include when it was last serviced and when it's coming due for service – as well as visibility into equipment location and utilization.
Keeping equipment in good repair contributes to the safety of workers and the reduction of jobsite safety incidents.
2. Onsite Fleet Maintenance and Management
At large sites that include a large concentration of equipment, it may be an advantage to complete onsite maintenance and repair via dedicated technicians. A fleet is a major investment and fleet maintenance is a significant part of that investment. Having a customized, well-defined, turn-key preventive maintenance and repair program is key to maximizing the return. But most companies don't have the time, operating systems or expertise to do it.
Data collection is critical to these programs. Providers should offer fleet maintenance systems and telematics solutions to develop a store of historical data on each unit. These systems should mine that data to design the optimal preventive maintenance program, delivered through the provider's onsite mechanics.
Contractors can realize significant cost savings not only through right-sizing maintenance tasks and personnel hours, but also through tapping a provider's relationships with OEM vendors in purchasing parts and materials at scale.
3. Fleet Management Strategy
With significant capital invested in equipment and vehicles, fleet management is critical to contractors. Yet for most companies, it's not a core competency. Simply put, these companies have other jobs to do. Without effective fleet management, they are missing opportunities to significantly lower the total cost of fleet ownership.
Detailed fleet data, including utilization and performance metrics, can enable service providers to identify optimization opportunities within a contractor's unique fleet scenario and create a comprehensive fleet strategy.
With a clear fleet strategy in place, life-cycle planning of equipment and vehicles becomes easier and annual fleet budgeting and buy vs. rent decisions become simpler. This means less money is wasted on underutilized assets.
By tapping into the systems, processes, expertise and efficiencies of scale of an equipment maintenance service provider, contractors can extract maximum value from their fleet. These steps can transform productivity for the ultimate payout of increased profitability.
Bret Kasubke is director, Customer Equipment Solutions at United Rentals. He has 20+ years of demonstrated excellence in driving performance improvement. The Customer Fleet Solutions team collaborates with large equipment owners in developing solutions to optimize their owned fleets while lowering their total cost of equipment operations.