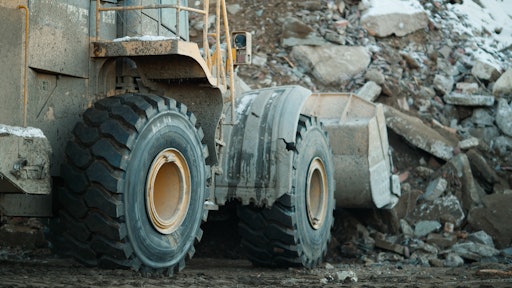 Yokohama
Tires are designed to work most efficiently at a specific pressure for the necessary load, providing the proper amount of vertical deflection. "Maintaining tire inflation pressure is one of the best ways to prevent unscheduled tire-related incidents and help ensure safety, uptime and jobsite efficiency," says Robby Hamby, director, Bridgestone OTR and Ag Product Programs. "By taking a proactive approach to tire maintenance and management through the use of data-centric solutions, owners can improve productivity and, ultimately, profitability by getting the most out of their assets over time."
"The correct pressure will allow the tire to carry the load it was designed for and the casing will deflect correctly," says Tim Good, open pit sales manager, Maxam Tire. "Not having enough pressure can cause a tire to separate due to heat or over deflection which weakens the casing. On the flip side, too much inflation can increase the chances for a tire to get an impact break easier or separate in the center and shoulders of the tread."
Monitoring heat buildup in the tire is also important. "Impact breaks and punctures are the most dramatic causes of wheel loader tire failure, but the much bigger challenge is actually separation due to heat," explains Bruce Besancon, vice president, Yokohama OTR Tires, Yokohama Off-Highway Tires America Inc. "A tire contains dozens of layers and components that are all fused together at the factory by heat and chemistry. When that tire is exposed to high heat from deflection and friction, the process can be undone and the components can separate from each other, causing the tire to fail.
"Monitoring tire heat is extremely helpful in helping ensure that the tire will be operated within safe parameters, just as monitoring inflation pressure is," says Besancon. You can spot imminent problems. "Just watching those monitors over the course of a normal shift can indicate whether you could benefit from an adjustment in inflation pressure or a switch from bias-ply to radial tires."
To maximize performance, tires require constant monitoring. "BKT has launched a system called SPOTECH, a device with an accelerometer which records all the lateral, longitudinal and vertical movements, as well as the related forces in addition to speed, duration of the cycle and other parameters," says Piero Torassa, field engineer at BKT Europe. "This is used to analyze the use of tires in depth, taking account of the affects and consequences on the equipment on which the tires are fitted. The goal is to increase efficiency and reduce waste."
Tire pressure monitoring systems (TPMS) continue to gain acceptance. "We have seen more of the growth in the haulage side of the applications, especially on the 57-in. and up sizes where the cost needs to be closely monitored," says Good. "Unmonitored haulage tires can easily exceed their TMPH (ton mile/hour) ability, which shortens its expected life and wear-out target." If the loader is performing a load and carry application, having a TPMS will ensure that the tires are operating within their rated capacity.
"Knowing if the inflation pressure is pushing the 20 percent increase over the cold inflation or the internal temperature has reached the critical setting allows the site management to make a production change with loader saving significant cost," says Good. "Therefore, TPMS systems can be very valuable if action is taken when the tires start to run at a higher pressure or temperature. Knowing how to properly address the situation in a timely manner is critical to the success of owning a TPMS system."
"There is a lot of potential for TPMS systems," says Laurent Greppi, global product category manager, Michelin. "We believe they will become standard in coming years." According to Michelin, their principal advantages include:
Improved product reliability (longer life, better and easier maintenance.)
Increased machine productivity for different applications (adapting pressure by type of soil, on road vs. off road)
Enhanced safety for operators, especially for machines working in hot conditions and long duty cycles (prevention of tires bursting)
Better comfort to decrease operator fatigue and risks linked to loosened parts
"Tire monitoring instruments help to continuously monitor the performance of the product, but they will never take the place of the tire expert who, thanks to their experience, can intervene if needed," says Torassa.