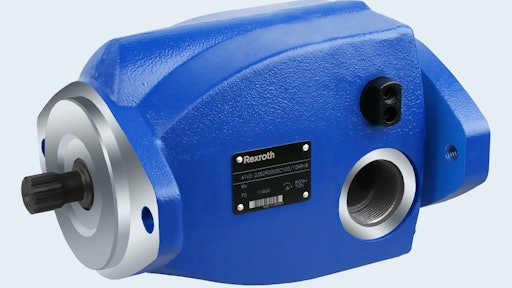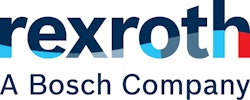 Bosch Rexroth exhibits the newest developments in hydraulics technology, including Axial Piston Variable Pumps, Mobile Controls, High-Torque Hydraulic Motors, Drive Train solutions and more in booth #80216 at the CONEXPO-CON/AGG show, March 4-8 in Las Vegas.
Visitors to the Rexroth booth can expect to see a broad range of leading hydraulics technology used in loaders, cranes, telehandlers, pavers and other mobile equipment. The company will display several notable products and systems designed to boost energy efficiency, improve productivity, and expand capabilities of mobile machinery.
Axial piston variable pumps
The A1VO axial piston pump is designed specifically for the smaller power classes of mobile machinery and offers reduced fuel consumption, optimized power efficiency and a compact design. In addition to these benefits, the A1VO offers an economical switch from open-center design to a load-sensing system. The series is now available in two displacement sizes: 18 and 35 cm3.
The A24VG axial piston variable double pump offers a higher pressure level for greater power density and good efficiency for hydrostatic drives in closed circuit applications. It features a compact design for tight installation conditions in equipment such as pavers, rollers, dozers, skid loaders and all-wheel drive vehicles.
Mobile controls
Rexroth offers a range of mobile controls products that includes all hydraulic function elements necessary for direction, pressure, flow and check functions. Visitors to the booth will learn about the company's M4 Rapid Production Program (RPP) which is intended to provide quick delivery for standard assemblies in custom arrangements and flexibility to fit most applications while allowing for field adjustments where possible.
High-torque hydraulic motors
The Hägglunds CBM motor is the world's latest and largest low-speed high-torque radial piston cam curve design hydraulic motor. It is 50 percent lighter than its predecessor while offering more efficiency with higher power and speed capability. The Hägglunds CBM motor opens up many new applications with its versatile mounting and improved performance and is supported by many existing Rexroth service centers in North America, including the company's new service center in Houston.
Also on display is Rexroth's Rineer high-torque vane motor, a medium-speed high-torque hydraulic motor that uses a patented vane crossing vane design. It is available with through-hole and bearing boxes for direct-drilling applications. The company's recent Fountain Inn, SC, facility expansion has added manufacturing capacity for the Rineer high-torque vane motor to significantly lower product delivery time.
Drive train solutions
The Shift on Fly (SoF), and 2+1 hydrostatic drive systems offer new possibilities for the travel drive on telehandlers, municipal vehicles and fast-moving wheel loaders in the compact class. The SoF is a hydrostatic drive with a two-stage axle gear box, while the 2+1 is a hydrostatic drive with two parallel hydraulic motors driving an axle gear box. Key benefits include a continuously variable transmission ratio, reverse capability under full load, faster response and maneuverability, and high performance and traction at low engine speed.
The Rexroth High-Efficiency Traction control system (HET) will also be on display as a simple solution for automated all-wheel drive activation on compact vehicles with hydrostatic wheel motors. HET eliminates the need for electronics or sensors and offers high efficiency for high speed and continuous traction on critical terrain.
Additional offerings
Other technology on display includes new transmission units, mobile electronics, compact hydraulics, product selection software, control valves, and radial piston motors. In addition, attendees will learn about Bosch Rexroth's new hydraulics manufacturing and engineering facility expansion at Fountain Inn, SC, and new service center in Houston, TX, which will help strengthen the company's contribution to the construction and mobile equipment markets across the Americas.
Companies in this article