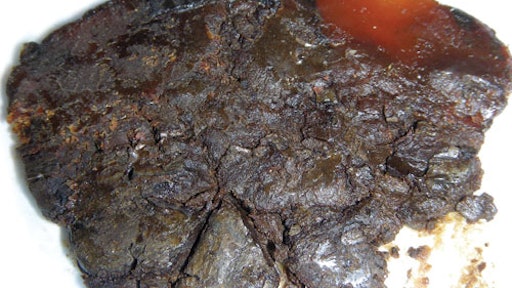 Noria
Article originally published on Noria.com
One of the main disadvantages of using grease over oil is the annoying tendency of grease to cake and dry out. We all know that oil has a natural tendency to drain out of the grease thickener over time. We see conspicuous evidence of this when oil puddles in unleveled grease pockets in pails of new grease. We've also seen the dribble of oil from stored grease cartridges and prepacked bearings on storeroom shelves.
More serious is the hardened byproduct of oil drainage that builds inside the cavities of operating bearings and gears over time. Often this takes years to develop, while in other cases the condition can reach catastrophic levels in just a few weeks. The failure can be self-propagating. As grease becomes dry, frictional forces escalate, causing concentrated heat within the bearing.
The elevated heat continues to force more rapid and complete drying of the grease. In time, the grease can reach a state of consistency ranging from hard putty to sandstone, depending on the thickener type and degradation conditions.
Frequently the most serious offending conditions leading to grease dry-out are aided by other causes working in concert. Let's begin by reviewing the primary causes of grease dry-out. Once the causes are determined, we have the information necessary to prescribe steps to correct or mitigate the problem.
(more from Noria on the causes, effects and remedies for grease dry-out...)