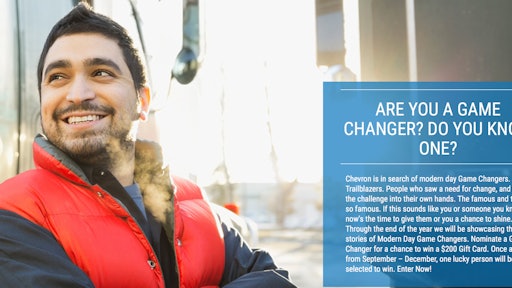 Chevron is in search of modern day Game Changers. Trailblazers. People who saw a need for change, and took the challenge into their own hands. The famous and the not so famous. If this sounds like you or someone you know, now's the time to give them or you a chance to shine. Through the end of the year Chevron will be showcasing the stories of Modern Day Game Changers.
Nominate a Game Changer for a chance to win a $200 Gift Card. Once a month from September – December, one lucky person will be selected to win. Enter now!
The Sweepstakes is open to legal U.S. and Canadian residents who are 21 years of age or older at the time of entry. One winner will be randomly selected each month from the entries that are submitted by the 15th of the month by 11:59pm. Winners will be selected on the 16th day of September, October, November and December. Total of four Winners. Each winner will receive one $200 Visa gift card.
Winners will be contacted by email. The winner will be the person who nominated the Game Changer, not the person nominated.
Read all the official sweepstakes rules.