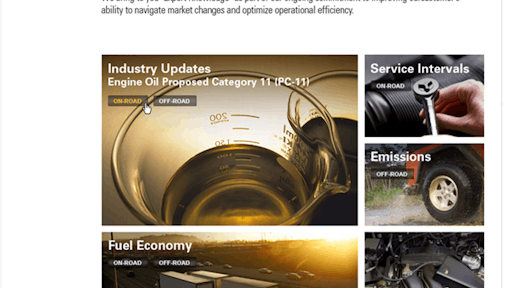 Chevron Products Company, a Chevron U.S.A. Inc. division, maker of the Delo brand of engine oils, lubricants and coolants, has expanded its commitment to customer and market education by introducing an upgraded portion of its ChevronDelo.com website. The newly expanded "Expert Knowledge" section will offer video and written material to address key market issues of interest to both its on- and off-highways customers. Some of the topics to be addressed on the site include Fuel Economy, Emissions Regulations and PC-11 – the new diesel engine oil category under development, slated for introduction in 2016.
"We currently hold over 250 customer-focused educational events per year," said Jim Gambill, Delo commercial and industrial brand manager, Chevron Lubricants. "While we will continue to meet with customers face-to-face, we see a clear value in bringing some of this content online."
The site will be updated on a regular basis and will include insight from Chevron subject matter experts on best practices and important topics. Jim McGeehan, Chevron's global manager, heavy-duty diesel engine oil technology, and the chairman of the ASTM heavy-duty engine oil classification panel charged with setting limits and verifying testing for the development of API oil classifications, will be a regular contributor to the site, providing updates on the development of PC-11.