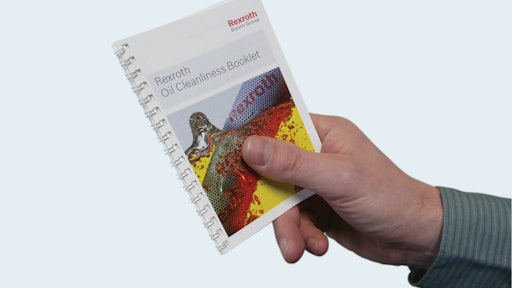 As the central component of any hydraulic system, oil contamination is often a major reason for system failure. More than 75% of all problems can be linked to contaminated oil, so monitoring oil cleanliness and preventing contamination are some of the most important factors in preventing system downtime and the need costly repairs and component replacement.
A new oil cleanliness booklet published by Bosch Rexroth explores the sources of problems with fluid systems, common types of oil contamination, and how to achieve oil cleanliness in accordance with ISO 4406.

Additional key concepts include:
Overview of key filter properties – covers filtration grade, dirt absorption capacity and differential pressure
Fitting tolerance of hydraulic components – includes gear pumps, vane pumps, piston pumps, servo valves and control valves
Recommended oil cleanliness level – examines requirements in accordance with ISO 4406 for different application types and suggests filter material/filtration grades
The 44-page pocket-sized booklet, which is printed on oil-resistant paper,  recommends ongoing monitoring and maintenance strategies to proactively diagnose and solve problems before they result in system failure. In addition, more than a dozen Rexroth products, including an assortment of filters, monitors and testing equipment, are profiled to present a variety of solutions ensuring system uptime by preventing negative incidents and diagnosing potential issues before they become problems.
Visit www.boschrexroth-us.com/filter to order a free copy of the booklet.
Companies in this article