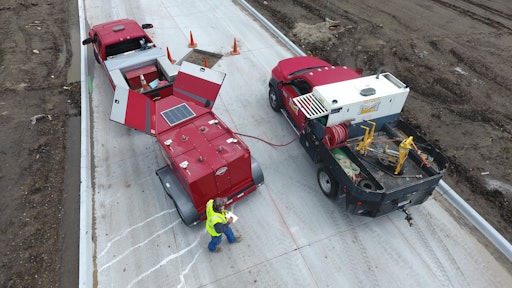 The Multi-Tank Trailers (MTT) fuel and service trailers are designed to legally transport bulk diesel on the road without requiring drivers to maintain a CDL or HAZMAT endorsement*. The trailers are available in 460-, 690- and 920-gal. capacities and include bulk diesel exhaust fluid (DEF) storage and dispensing solutions that ensure fluid purity.
"This came from a very specific construction industry need to haul bulk fluids from jobsite to jobsite without CDL and HAZMAT licensing," says Luke Van Wyk, general manager, Thunder Creek Equipment. "With the shortage of skilled labor in the construction market today, and the difficulty in finding and retaining certified drivers, these new trailers allow any worker with a valid driver's license to haul the trailers within federal regulations."  
[VIDEO] Thunder Creek MTT Trailer Addresses Challenge of Access to Skilled Labor

This is made possible by isolating diesel in four, six or eight separate 115-gal., DOT-compliant non-bulk tanks. Tanks are joined by a manifold to a common pump, creating complete isolation during transport and controlled dispensing of fuel at the jobsite.
Built with 10-gauge steel
Maintain a low profile and configured to provide optimal balance and a smooth ride at highway speeds and in most rugged off-highway conditions
Standard 25-gpm pump, 10-micron fuel filter and 35-ft. auto-retracting hose reel
Can be outfitted with a 100-gal. DEF tank with closed DEF delivery system, including the 2-in-1 DEF pumping system
Options include an ISO-compliant 4-micron fuel filter (ISO 4406) and 50-ft. hose reel
Optional rear utility box can be customized to each individual needs with the inclusion of toolboxes, a workbench with vise and T3-in-1 welder/generator/air compressor
Other options/customizations include the WorkSight light tower, Field Max tires, 35-lb. grease kit, aluminum wheels, solar battery charger, electric/hydraulic jack and stainless steel trim/fender upgrade
*Title 49 (CFR49) – local regulations may apply
Request More Information
Fill out the form below to request more information about
Thunder Creek Multi-Tank Service Trailers