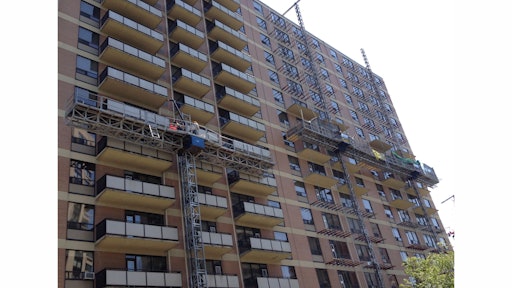 Information from this article was first published in Demolition Magazine and is being reused with permission from the National Demolition Association.
Charged with handling the complete demolition and replacement of every balcony on a 14-story high-rise apartment building, concrete restoration contractor King Restoration in Toronto, Ontario, used a Brokk demolition machine that enabled them to complete the lofty project in just six months.
King Restoration's engineers approved the use of the Brokk 50 machine, a unit that maintains a small footprint and weighs just over 1,100 pounds. It was chosen because it could effectively demolish the 168 balconies measuring 16 feet long and 5 feet deep from a mast climber while exerting minimal dynamic force, which if great enough, could affect the stability of the platform.
The concrete on the apartment building was spalling and de-bonding from steel reinforcement joists that had rusted, which increased the risk of structural failure. It was a massive task and came with the risk of injuries from falls and inadvertent damage to buildings. It also would have required a lot of manpower behind numerous handheld jackhammers, which meant a higher risk of injuries that could have included hand-arm vibration syndrome, carpal tunnel syndrome and nerve damage.
The project began with the crews securing plywood between the building and platforms to capture falling debris and included protective barricades and the correct personal protective equipment for each worker. The demolition crew on the project included five men on a mast climber along with the Brokk machine. One man operated the machine and the other moved debris and prepared the steel joists. A forming crew followed to make the forms for new concrete balconies. There was also ground support below, which included two men operating a hydraulic hoist to bring demolished concrete down and take fresh concrete up.
The crew used the Brokk 50 unit mounted with an Atlas Copco SB52 breaker. The Brokk machine has a three-piece boom system that can reach up, over and below objects to break up concrete. It also allowed crews to dispense with handheld jackhammers and position the machine in ways that would have been impossible otherwise. In addition, the Brokk machine could break up the concrete faster than handheld jackhammers, which dramatically increased the productivity of the project.
"I would have needed a full crew of about 15 men working on the job to complete it in six months," said Paul King, owner of King Restoration. Instead, he was able to have just 11 men on the project, while the other four could be assigned to other jobs. The crew averaged 10 balconies per day.