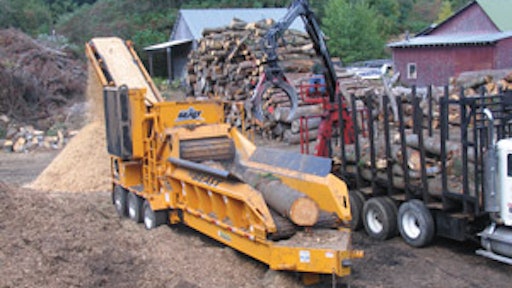 It's possible to spend as much as $750,000 or more for a large, high-horsepower grinder. Given that kind of cash outlay for a single piece of equipment, you don't want to have any regrets about the one you ultimately choose.
Models cover the spectrum from small, niche market units rated at less than 100 hp to those upwards of 1,000 hp. Some of the largest machines top 1,200 hp with openings as large as 15 ft. Coupled with more features across all size ranges, the opportunity to enhance your productivity is increased - and so is the opportunity to make a costly mistake.
"We go through quite a lot of questions with customers," says Chris Edmonds, Morbark. "We try to learn as much as we can about their goals - what they're trying to accomplish, what type of end product they want to make and what sort of volumes they expect. There's quite a learning curve before we start recommending individual machines to anyone. Contractors may have an idea of what they think they need. But that might not be the best option. They may not be aware of other options that might be available to them."
Tub or horizontal?
The first step typically boils down to choosing between a tub grinder and a horizontal grinder. Since their entrance into the marketplace just a decade ago, some manufacturers indicate sales of horizontal grinders have grown to the point where they now outnumber tub grinders at a rate of 2:1. But that doesn't mean there isn't still a place for both.
Because they are gravity fed and have large-diameter openings, tub grinders are very efficient at chewing away at large, unwieldy debris such as stumps and root balls. A tub grinder's shortcomings are typically related to material length, which is limited to the depth of the tub.
"Tub grinders are good choices for jobsites where you knock down trees, grub out the stumps and pull brush into piles with front-end loaders," says Dan Brandon, Morbark.
Tub grinders have also had a reputation for throwing debris. However, many manufacturers have addressed this problem by adding safety mechanisms to prevent debris from "popping out" of the top of the grinder.
"A lot of contractors believe horizontal grinders are safer," says Mark Rieckhoff, Vermeer. "But that's a misconception. That's why we have designed safety features for both types of grinders, such as the Thrown Object Deflector on horizontal grinders and Thrown Object Restraint System on tub grinders. Both systems have been designed to help reduce the quantity and distance of thrown objects from either grinder."
Horizontal grinders are well-suited for grinding long lengths of material, such as whole trees measuring 40, 50, even 60 ft. They excel in this application because you don't have to spend extra time cutting material into segments.
"Overall length and diameter are important considerations when selecting a grinder," says Rieckhoff. "If the material to be ground is longer or larger than the machine can handle, the operator has to give thought to how to pre-process it so it can be efficiently fed into the tub or placed onto the in-feed conveyor of a horizontal grinder. Without cutting to length long material, or shearing larger diameter material such as root balls, the operator will waste time in trying to manipulate it until it is of an adequate size to feed on its own."
Is bigger better?
Horsepower ratings garner a lot of attention when selecting a grinder. Mid-range machines are popular choices due to their balance between productivity and maneuverability. "Our 500- to 700-hp 3680 is the backbone of our grinders," says Troy Grover, Bandit. "It's an easy size for people to work with and it's easy to move around."
But the trend toward "bigger is better" is evident in the introduction of continually higher horsepower units. For example, Bandit offers a larger 860- to 1,000-hp 4680 horizontal grinder. And about a year and a half ago, Morbark introduced its 1,200-hp Model 1600 tub grinder.
"The 1600 is about as big as can be hauled legally down the road," says Brandon. "In the last 10 years, we've seen that contractors want to get in and get the job done quickly. That has driven the trend toward increased horsepower and larger machines."
One reason behind the trend is that output typically goes up as horsepower increases. "But if you are asking different tasks of machines with varying horsepower offerings, keep in mind the differences in raw product, machine/hp selection and how they grind," Rieckhoff advises.
Hardwoods will take more horsepower to grind than comparably sized softwoods and green waste. The same scenario is true for relatively small end products. For example, if your end product is 3/4-in. animal bedding, it will take more horsepower to grind than 6- or 8-in. mulch.
When you are evaluating horsepower, consider your production needs. Do you need to grind 500 yds. an hour or 300 yds. a day? A lower horsepower machine may be able to physically accommodate the debris, but may grind it at a slower pace. If your goal is purely production, you may need to step up to a higher horsepower machine.
"Volume expectations and end product size are important in the purchase decision," says Rieckhoff. "Without consideration of these factors, an operation could find itself with a machine that does not fit the application and is either too small or too large - both of which will drive dissatisfaction and unforeseen costs to the company."
What are your volume expectations?
Operator performance, cycle times and discharge methods can also influence volume expectations. "Machines can be rated according to ranges of production, but it is difficult to pin down exact ratings for each machine because there are so many variables," says Brandon.
While the impact of grinder operator performance may be fairly obvious, management of the jobsite and performance of the support equipment operators also play a role.
For example, sorting material before it gets to the grinder improves production. "If you're struggling too much to get long debris into a tub grinder or large-diameter debris into a horizontal grinder, you can waste fuel - which is one of the biggest expenses - for the grinder, loading equipment and trucks waiting to be loaded," Rieckhoff points out.
Placement of the grinder to the raw materials (cycle time) is important since it, too, can affect fuel usage. Long travel times between the product and the grinder can create downtime that wastes fuel as the grinder sits idling. "When you fine-tune the placement of the machinery to raw materials, the grinder will perform better," says Rieckhoff.
How quickly you can move material into and out of the grinder also affects productivity. To maximize material movement, some manufacturers incorporate automated feed control systems.
For example, Vermeer offers the SmartGrind control system, which automatically stops, reverses or proportionally regulates the feed rollers and in-feed conveyor on horizontal grinders according to engine rpm drop. The control system in its tub grinders regulate tub rotation based on engine rpm and conveyor pressures to prevent engine stalling or conveyor plugging.
Morbark's Iqan system works in a similar fashion by monitoring pressure on the augers. "It's a safeguard system to make plug-ups a rare occurrence," says Brandon. "It helps to match the speed of the grinding to the speed of the discharge. The goal is to get the most out of the horsepower so the machine can work at its peak torque curve."
To move material away from the mill, some manufacturers utilize belly conveyor belts as their discharge system and use augers. "You can only grind as much as you can move away from the mill," says Brandon. "You want a system that keeps the end product coming out onto the stacking conveyor. Customers want to see the discharge belt full all the time. That's how they make money."
Throwers are also an option for blowing debris into an enclosed trailer. "It's a good option for someone who doesn't have a landing for their trucks," says Grover. "You can back right up to the grinder and blow directly into the van."
Driveline protection can help keep a grinder productive by minimizing the risk of equipment failure.
"One thing that is inevitable when you are grinding piles of wood and material brought in by someone [else] is you may hit something that isn't grindable," says Brandon. "Trying to continue grinding can tear the machine apart or drive the shock back into the engine and break a crankshaft or engine component that could be big dollars to repair."
To avoid catastrophic failure and the subsequent downtime, Morbark offers a break-away torque limiter that releases when it hits something too hard, instantly disengaging the engine and drivetrain from the mill. It also eliminates cold stalling by disengaging the clutch while allowing the engine to continue running.
Another feature that can reduce downtime is fluid, or hydraulic, clutches now found in many machines. "Fluid clutches make maintenance easier since there are no adjustments that need to be made," says Grover. "And contractors only need to change the oil and filter. They have been a good feature on our machines that make it easier to engage and disengage the clutch."
A la carte options
Contractors can further customize a grinder with options such as tracks, loaders and made-to-order cutting chambers with changeable screens, teeth, etc.
Tracks can increase maneuverability around certain jobsites, especially for horizontal grinders working in rough terrain, around mulch yards or landfills or in soft, muddy ground conditions.
"We can build tub grinders with tracks, but it's not a popular option because the machine itself is so tall and wide," says Brandon. "Tracks [on horizontal grinders] are a good option in areas where it's difficult to get support equipment in."
"We see more land clearing contractors with tub grinders and loaders," notes Rieckhoff. "If you size material appropriately, the tub grinder can handle all ranges of material from the stump or root ball to the canopy of the tree. These are a good option if you can build piles of debris. Then the grinder can load debris all day."
Cycle times can be virtually eliminated with the addition of a loader, which is a popular tub grinder option. "Several of our tub grinders are available with cab and knucklebooms or grapples, which also eliminate an extra piece of support equipment on the jobsite for loading," says Brandon.
The ability to change teeth and screens enables you to maximize grinder productivity and customize the end product. "By changing teeth and screens, you can make about any end product you want," says Grover.
Bandit offers eight different types of teeth for grinding everything from green waste and stumps to whole trees and even shingles. Screen sizes also vary from 3/4 to 7 in. in modified diamond and round patterns. Other manufacturers, such as Vermeer and Morbark, also offer a variety of teeth and screen sizes. "Whichever tooth and/or screen size you use, make sure they are in tune with each other," says Grover.
With all of the options available, it's advisable to work closely with the manufacturer to identify those that can make the grinder most productive for your given situation.
"There's a big learning curve and we want to make sure a contractor is looking at the right grinder," says Brandon. "The last thing we want to do is sell someone the wrong machine, then have problems down the road. We try hard to get everyone matched up with the right equipment."