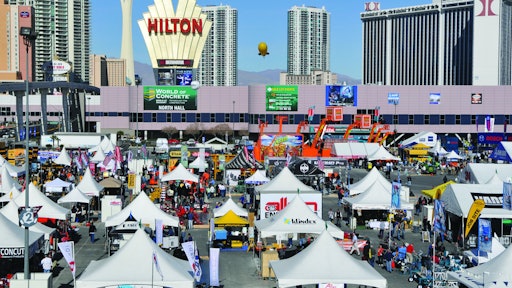 The World of Concrete trade show in Las Vegas last week suffered what appears to be about a 10 or 12% reduction in attendance, exhibit space and exhibitors, according to Steven Pomerantz, show marketing manager, but he said many who came to the show were ready to do business.
"We talked to a number of exhibitors and they all seemed really happy with the quality of the attendance," Pomerantz said. "A lot of people get caught up in the numbers game – they get focused on the number of bodies in the aisles."
Pomerantz pointed out that in an economic environment like today's, lots of foot traffic is probably not a realistic expectation. Contractors who might bring extra employees to the Las Vegas show presented by Hanley Wood as a perk during boom times can't afford to pay for those extra air fares and hotel rooms when cash flow slows to a trickle. But Pomerantz said those who are serious about finding new equipment solutions come to the show with purpose.
"I know a lot of exhibitors were selling equipment on the show floor, based on my conversations and focus groups we did on site," he said.
Official totals won't be out for a week or so but estimated attendance and exhibit space were down about 40% compared to World of Concrete in 2008, the last time the show coincided with the Association of Equipment Manufacturers' mammoth CONEXPO-CON/AGG show (which comes again to Las Vegas March 21 to 26 this year).
"We know the contractors and material producers are going to be at CONEXPO-CON/AGG but we've been expecting they won't come in the same numbers as before; that in an economy like this many would cut back on incentive travel with their employees," Megan Tanel, AEM's vice president of exhibitions and events said. "But to tell you the truth, we saw a lot of companies record their best months of 2010 in November and December, so there might still be some of that extra spending on travel." 
She was encouraged along that line by reports from World of Concrete organizers of a great rush of registrations the day before that show opened.
"It's hard to compare any show anywhere to the CONEXPO-CON/AGG of 2008; with 20% growth and record size and attendance, it was just a banner show," she said. "At this point, though, we're tracking to have somewhere between the 124,000 registrants we saw in 2005 and the 145,000 from 2008. We're thinking the final numbers will end up being between 125,000 to 135,000."
With the construction market down 20% or more, a 5% bump over 2005's levels looks solidly successful.