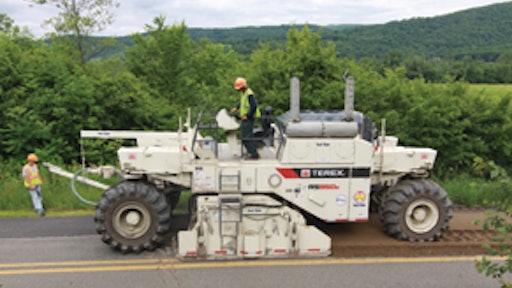 Terex has streamlined its North American Roadbuilding manufacturing facilities, enabling them to work more closely as a unit and offer improved equipment sales and service to its customers. Leading this effort, Don Anderson, general manager of Terex Roadbuilding, now has managerial responsibilities for all three North American road building equipment facilities located in Canton, S.D., Fort Wayne, Ind. and Oklahoma City, Okla.
"We are focusing on our core road and bridge building businesses and right-sizing those businesses to meet demand, so we can better serve our customers," Anderson says.
Terex Roadbuilding North America has realigned its field sales force to mirror the centralized focus at the factories. Beginning in 2012, all Terex Roadbuilding district managers in North America will have sales responsibilities for the entire road building equipment offering, which includes more than 75 products from the three North American manufacturing facilities.
Leading this team is David Rinas, who now serves as director of sales and marketing for Terex Roadbuilding North America. Rinas joined Terex in 2009 as sales director for Terex front- and rear-discharge mixer trucks in Fort Wayne and now also serves as interim site director of the Fort Wayne facility. He now has sales and support management responsibilities throughout the United States and Canada for the entire Terex Roadbuilding asphalt and concrete equipment lines.
"By allowing them [the Terex field sales force] to sell the entire product offering - no matter if it's an automatic roller paver from our new manufacturing facility in Canton, an asphalt paver or reclaimer/stabilizer built in Oklahoma City or a mixer truck from Fort Wayne - this enables our district managers to develop a deeper relationship with our dealers and customers," says Rinas.