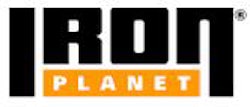 IronPlanet, a leading online marketplace for buying and selling used heavy equipment, today announced it was awarded a contract with the U.S. Defense Logistics Agency (DLA) to manage and sell rolling stock surplus assets of the U.S. Department of Defense (DoD) (Surplus Contract). Bids for the Surplus Contract were based on a percentage of the sales price of the items, which IronPlanet estimates at $50-70 million of rolling stock annually.  IronPlanet's high bid was equal to 75.29% revenue share to the DLA. The Surplus Contract has a base term of two years with four one-year renewal options.
"We're very excited to win this contract and to support the U.S. Department of Defense in selling their surplus assets. Winning this contract is a testament to the value of IronPlanet's global marketplace for the buying and selling of used equipment," said Greg Owens, CEO.
Rolling stock includes surplus cranes, crawler tractors, generators, wheel loaders, trucks, trailers and other equipment. The contract is scheduled to commence in December 2014.