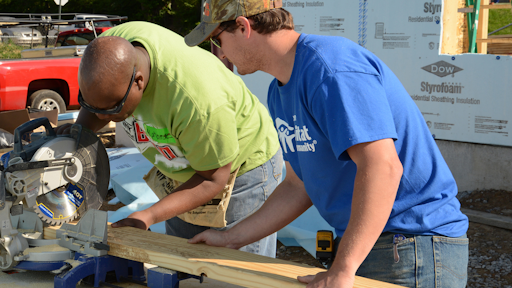 Link-Belt Construction Equipment and Lexington Habitat for Humanity have partnered for a second straight year to help out two Lexington-area families in need.
The partnership will put Nsenga Tshiunza and Mujinga Kabeya and their five children in a home while they continue the naturalization process into the United States since moving from the Democratic Republic of Congo. "My family is very happy for Habitat," said Nsenga, who recalls losing everything his family owned in the war in the Congo. "We are happy that our children will always have a home that belongs to them."
Right next door to Nsenga and Kabeya will be a second brand new home for Rita Murphy and her two grandchildren. Rita will be moving from her current space, a small one-bedroom duplex, where she converted the living room into a bedroom for the children. "I feel like I'm living in a storage area," Rita said. "Everything is in boxes and corners." Naturally, Rita's grandchildren are eager to move into their new home which will have enough bedrooms for all three members of the family. "The kids are very excited. They go to home dedications of other families and just look around each room."
Lowes Partners with Habitat for Humanity to Build Homes in 10 Cities
This year, Link-Belt will have over 180 employees volunteer for the two residences with building assistance for the second home also coming from Larry and Kitty Parker. The same project manager for last year's build on Price Road, Frank Brangers, will also be leading construction at one of the two residences on Maple Avenue. "Every day we are blown away with the work done by the Link-Belt volunteers. We were able to get the roofs on both homes very quickly and have begun placing siding in six full build days," said Brangers.