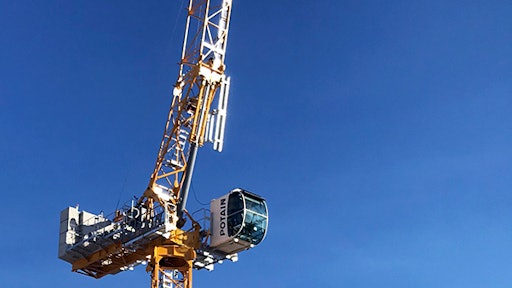 The new Potain MRH 175 tower crane with hydraulic luffing jib will make its debut at CONEXPO 2020. It's one of two Potain cranes that will be on display at the Manitowoc booth during the show, where the company plans to showcase the latest in lifting technology for two of the busiest sectors in the built environment: high-rise construction and home building. The other crane on show will be the Hup M 28-22 that was introduced in 2019 and is making its North American debut, with a new transport axle for the regional market. Both cranes can be found on the Manitowoc booth, #F6144, in the festival lot, near the corner of Las Vegas Boulevard and Sahara Avenue.
Maximum capacity for the MRH 175 is 11 tons (10 tonnes), while the maximum jib length is 180 ft. (55 m). Tip capacity is 1.65 tons (1.5 tonnes) when working with the full 180 ft. (55 m) jib, or 3 tons (2.7 tonnes) if fitted with 164 ft. (50 m) of jib. Maximum line speed is 705 ft./min. (215 m/min) when working with the high-performance 90HPL25 hoist.
The crane's fixed counter jib and topless structure facilitate fast erection and dismantling, as well as making it more compact for transport, needing only four standard containers. The elements weigh under 8.5 tons (7.7 tonnes), and there is a single counter-jib/jib foot package. The topless design also means less space is needed on sites with multiple cranes and the hydraulic design means no wire rope installation is needed. A smaller assist crane is needed for erection as there is no cathead to assemble.
Potain's hydraulic luffing design features a shorter counter-jib and out-of-service radius than rope-luffing alternatives. This frees up valuable space on job sites, with the MRH 175 delivering an out-of-service radius of only 33.5 ft. (10.2 m), regardless of jib length. Freestanding heights of up to 206 ft. (62.8 m) are available with the 6.5 ft. (2 m) K-mast sections, and the crane is also compatible with 5.2 ft. (1.6 m) K-mast sections. On the hoisting drum, up to 3,136 ft. (956 m) of rope is available with the 90HPL25 winch, allowing users to choose either 1,568 ft. (478 m) in a two-fall configuration with a 5.5 USt (5 t) maximum capacity or 784 ft (239 m) in a four-fall configuration with an 11 tons (10 tonnes) maximum capacity. Luffing the crane from the horizontal to vertical is efficient, taking less than two minutes.
Request More Information
Fill out the form below to request more information about
Potain Debuts MRH 175 Tower Crane, Will Focus On High-rise and Home Building at CONEXPO 2020