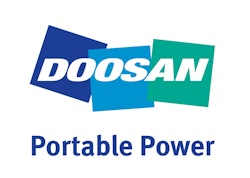 Doosan Portable Power has announced the opening of a new manufacturing facility for Doosan in Bangalore, India. The new factory located in Doddaballapur has the capacity to produce 2,000 portable air compressors and light towers annually.
A Pooja Ceremony was held on August 12 along with a celebration to commemorate the beginning of production at the new facility. More than 100 guests joined Doosan Portable Power employees for the manufacturing launch.
Portable air compressors and light towers that are manufactured in the factory are sold in India with future plans to provide additional units to meet market demands in South Africa and Latin America. The first two machines manufactured at the new facility were light towers.
"Doddaballapur in Bangalore offers outstanding vendors and manpower that will allow for the manufacture of high quality products," J.S. Kim, managing director and CEO of Doosan India, said. "As the market for our products continued to grow, it became necessary to have our own facility to meet our customers' needs."
The new manufacturing facility was opened in 180 days from the time project plans were formulated. Prior to opening the manufacturing operation, Doosan Portable Power worked with an exclusive third-party partner for manufacturing units in Pondicherry, India.
The Doosan Portable Power facility in Bangalore will also house all Doosan India Operations along with Doosan Portable Power manufacturing. Additional plans will include opening a trading warehouse for other Doosan brands, including Doosan excavators, Bobcat machines and Montabert hydraulic breakers.
Companies in this article