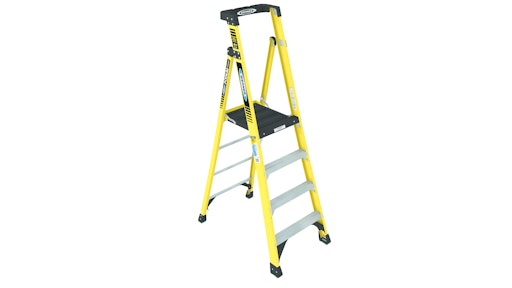 Werner, announces the introduction of the new heavy-duty Podium Ladder. This Type IAA ladder has a load capacity of 375 lbs. and provides four-times the work zone, allowing users to face any direction while comfortably accessing the job at hand.
Waist-High Guard Rail: The 36" high extended guard rail wraps around the ladder top for more security and total freedom of movement, while providing the ability to work from any direction on the jobsite
Podium Platform: Extra-large platform for all-day comfort, feels like you are standing on the ground
Edge360 Bracing System: The system provides stability and drop-protection with an over-sized footpad
LOCKTOP Customization for the Ladder Top: With the new LOCKTOP functionality, users can secure an arsenal of tools and accessories that are Lock-In Compatible. The Lock-In Accessory System allows you to customize your ladder top for the job. Whether there is a need for a Lock-In paint cup or utility bucket, professional contractors and DIY enthusiasts will have access to their tools, when needed
Fiberglass Construction: The seven-layer Werner quality fiberglass construction is non-conductive for the extra safety
The Podium Ladder is available in a variety of reach heights from 9 ft. to 14 ft.
Request More Information
Fill out the form below to request more information about
Werner Introduces a New Ladder to Podium Line