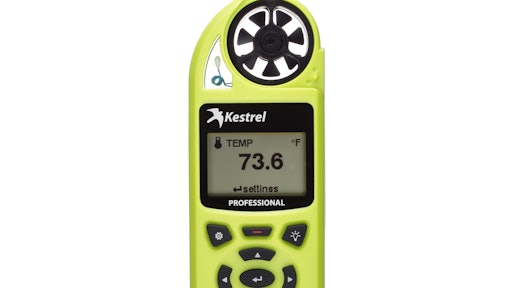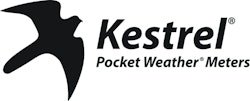 The Kestrel 5200 Professional Environmental Meter measures and records wind and air flow, temperature and humidity anywhere on site.
Provides specialized readings for pouring concrete and commissioning HVAC systems 
Direct readout of ACI's "evaporation rate" formula
Provides instantaneous, average and max volume air flow readouts
Store readings in memory
Direct readout of moisture content and air density
13 basic weather measurements: air density, air flow, air velocity, altitude, barometric pressure, dew point temperature, evaporation rate, heat stress index, moisture content, relative air density, relative humidity, wind speed and wind chill
Built-in logging with user-settable intervals to create complete history of all measurements
Sunlight readable display with large numerals
Optional LiNK wireless connectivity for remote viewing of readings and data log transfer with any iOS or Android device
Optional portable Vane Mount turns device into a weather station mountable on any tripod
Case is water and dust proof (MIL-STD-810G drop tested and IP67 sealed)
Uses one AA battery
Length: 5 in.
Weight: just over 4 oz. 
Request More Information
Fill out the form below to request more information about
Kestrel 5200 Professional Environmental Meter