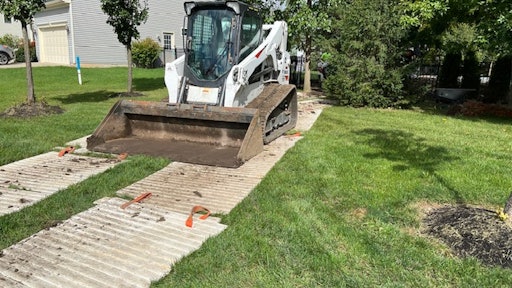 DICA

DICA is set to showcase ground protection solutions for landscapers, hardscapers and contractors. The family-owned and operated company will feature SlatTrax, a Ground Protection Roadway, in addition to AlturnaMATS and VersaMATS Ground Protection Mats.
SlatTrax is a linear roadway system that provides vehicle access to worksites while protecting the ground. Made of recycled high-density polyethylene (HDPE), the plastic temporary roadway can support most residential construction, landscaping and tree care equipment.
SlatTrax hydraulically powered systems are loaded with 100 ft. of Trax and can be reloaded with additional DIY or Rolled Trax sections to extend service roadways. The single or dual spool hydraulically powered systems mount on skid steers and other loaders to roll out 100 ft. or roadway in two minutes. The Hydraulically Powered temporary roadway system eliminates manual labor, requiring fewer crew members needed to prepare a site.
Approximately 100 ft. of pallet-based DIY Trax with ratchet straps can be deployed or retrieved manually in 15 minutes or less. The compact, self-contained systems require less space for transport and storage. DIY Trax can be deployed manually by dragging the 12.5-ft. individual sections or using Hydraulic Powered equipment. In addition, the standard pallet can be picked with forks to transfer the Trax to the worksite. Steel Grapple Pallets are an option that allows the crew to use their grapples to move the system when forks are not available.
Like SlatTrax, AlturnaMATS and VersaMATS are ground protection mats that are used to provide access to jobsites while preventing lawn damage, including ruts and stuck vehicles. Also made of HDPE plastics, they are durable and resistant to breaking, cracking, splintering, delaminating and absorbing moisture. These mats can be used to create stable work platforms, access roads or temporary parking areas in construction sites.
Request More Information
Fill out the form below to request more information about
DICA to Showcase Ground Protection Products