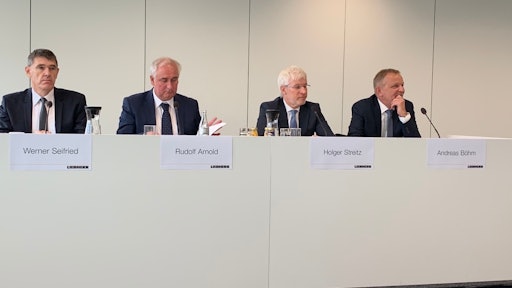 In 1949, Hans Liebherr invented the very first tower crane. Today, Liebherr is one of the world's largest manufacturers of construction machinery.
At a recent press event in Kirchdorf, Germany for the International Construction Trade Press Tour, several of the company's most influential team members shared valuable insights on their vision and plans for the future of construction sites.
Liebherr is continually striving to offer advancements and drive the construction industry forward. Liebherr International board of directors member Andreas Böhm says, "Our vision [for] the construction site of the future is to bring faster, safer and above all, more efficient processes through the digitalization, networking and automation of machines. The construction site of the future should also create fewer emissions than before and be as climate-neutral as possible."
The Future Is Efficient
Liebherr is focused on creating solutions that enable construction sites to be as efficient as possible. This includes methods for making the most effective use of energy, time, money, people, materials and all other resources.
Some of the ways Liebherr is accomplishing this goal of maximizing construction site efficiency is through manufacturing energy-efficient machines, optimally matched drive train components, new processes for energy recovery and an array of other offerings aimed at reducing fatigue, promoting safety and protecting the environment.
Just a few of Liebherr's more efficient machines include:
A crawler excavator with increased bucket capacity, higher engine power and reduced fuel consumption.
Mobile cranes that offer maximized performance with minimal set-up time due to improved supports and quick-release couplings.
Flat-top tower cranes with a compact head that integrates the hoist, slewing gear, central switchgear and the complete slewing ring support.
The Future Is Digital
In the past, excavators, dump trucks and other machinery were operated manually and housed a staggering numbers of buttons, switches and controls.
Böhm says that Liebherr, however, "has evolved from a machine manufacturer into a systems provider with digital services and solutions that go far beyond the machines themselves." He says that digitization allows for optimization of job site processes and streamlining of complex project planning.
Some examples of Liebherr's digital systems include:
Monitoring of the conditions of individual components and complete systems to optimize machine efficiency and reduce downtime.
Intelligent assistance systems that improve comfort and safety during use.
An adaptive operating concept called INTUSI.
Says Böhm, "We've also created digital solutions for deep foundation machines, such as job site planning, simulation, data transmission and positioning systems."
Liebherr is a leader in utilizing augmented reality (AR) and virtual reality (VR) to transform the way contractors work. They expect these technologies to become commonplace in the construction field, and AR and VR are already central to many of Liebherr's innovations.
These solutions include future-orientated technologies such as Augmented Reality (AR) and Virtual Reality (VR), which are gaining ground in Industry 4.0. The use of AR and VR solutions has the potential to transform the way of work and we expect that they will become common practice in the construction industry. They are already integral to some of our newest innovations.
Intusi
Also at Bauma 2019, Liebherr launched INTUSI – which is meant to revolutionize communication by and with construction machines. INTUSI combines internet of things (IoT) with machine learning and intelligent operating logic.
Liebherr's managing director of sales Rudolf Arnold says, "INTUSI stands for INTuitive USer Interface." He goes on to say, "It is a future-oriented interface, which raises the usual clear arrangement and comprehensible overall logic of the operation of Liebherr machines to a new level. Solid support for the machine operator with the corresponding functions is the basis for efficient machine use. Here Liebherr links the operating and machine intelligence. In the new operating concept, various assistance systems are integrated, and safety functions are automated. For example, if the machine detects that dusk is falling, the operator is automatically notified of the changing external conditions and is alerted to switch on the lights. INTUSI is to be used in the future in all Liebherr earthmoving machines and material handlers."
Crane Planner 2.0
The Crane Planner 2.0 is an intelligent software for planning complex lifting assignments. The software allows users to simulate all working steps – from lifting to setting down the load – in a 3D space using VR. The software also checks the feasibility of the project in advance during the planning phase.
Liebherr's managing director of engineering and design Holger Steitz says the Crane Planner 2.0 is, "a modern planning software for heavy lifts. The Crane Planner 2.0 combines highly detailed, interactive 3D models with all the relevant planning data, based on the Load Moment Limiter (LML) of the respective machine. This combination is a considerable additional benefit of the Crane Planner 2.0 as opposed to conventional lift planning using CAD applications. Every change in the crane geometry activates a new calculation of all planning data."
AR Pavilion at Bauma
While at this year's BAUMA, Liebherr also showcased another example of its digital technology. The Liebherr AR Pavilion was an exhibition that allowed visitors to see Liebherr's AR in action. The pavilion offered an easy-to-understand explanation and display of how data analysis, visualization, networking and automation on the job site could be performed via AR on tablets.
The Future Is Environmentally Friendly
Böhm says, "While we strive for continuous innovation and efficiency, this should never come at the expense of the safety of those operating our machines or of the environment."
He went on to explain that the worksite of the future is responsible. Liebherr is committed to the ongoing improvement of workplace safety and reducing emissions. The company has been developing and creating electric drives and control cabinets for its tower cranes since the 1950 – long before most manufacturers were focused on the environment.
Several recent examples of Liebherr's low-emission products include:
An electric-drive truck mixer series.
An electric stationary concrete pump.
Electric material handling machines.
The XPower® wheel loader with power split travel drive.
A combination diesel-electric mining truck.
A 100% electric mining excavator.
The LB 16 – which is the world's very first battery-operated large rotary drilling rig.
LB 16
Liebherr's newly developed LB 16, is a first-of-its-kind electric drilling rig. It is highly mobile and can operate for up to 10 hours without a charge. In a field where diesel engines are most common, this drive concept was radical. It also includes an automatic ground pressure indicator, automatic positioning system and various systems for recording and evaluating process data.
What Drives Innovation?
Customer needs and demands drive all decisions regarding future product offerings, processes, research and advancements. For instance, Liebherr developed the LB 16 to address both customer needs for electric drilling, mobility and ease of use – while also reducing environmental impact.
Diesel engines will always have their place, however. Larger machines depend on fuel, and Streitz explained that the focus here will be on cleaner diesel. It's all about what customers need. Some need software products and digital tools, while others still have a heavier need for hardware. The Liebherr team says bridging these needs with tools that address both sides of the coin is crucial to fostering a construction job site environment that is the most effective for workers.
Barriers to Introduction of Products to North American Market
A few barriers to forward innovation include:
Differences between U.S. and European regulations.
Tariffs and other trade issues.
According to Böhm, certain products and machines encounter difficulty during the approval process for the North American market due to differences between U.S. and European regulations. Liebherr is continually working toward addressing these regulations and creating offerings that are fully compliant and effective.
Another issue is the current global trade and tariff situation. Liebherr is hopeful that global relations and financial policies improve in the near future – but the company is actively working in the U.S. In fact, Liebherr has been operating in Virginia for more than 48 years, and recently invested in several expansions to their U.S. operations.
What's in Store for the Future?
Liebherr is continually striving to drive the construction forward. The company is currently working on different drive systems, alternative energy resources, testing various types of fuel cells, implementing hydrogen technology, etc. To learn more about what they have to say about the future of construction sites, check out the latest edition of the Digging Deeper Podcast.