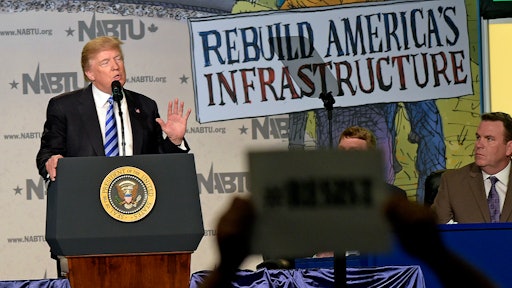 The Associated Press
President Trump laid out his vision for a $1 trillion infrastructure package in his budget request on Tuesday, offering the first real glimpse of the highly anticipated plan.
The White House spending proposal includes a brand new section that would "provide an infrastructure plan to support $1 trillion in private/public infrastructure investment" — one of Trump's chief campaign promises.
The rebuilding plan, according to the budget, would inject $200 billion into transportation projects over 10 years, with the goal of creating $1 trillion worth of overall investment.
The spending document says the administration would meet its $1 trillion target through a mix of new federal funding, incentives for private sector investment and expedited projects that "would not have happened but for the administration's involvement."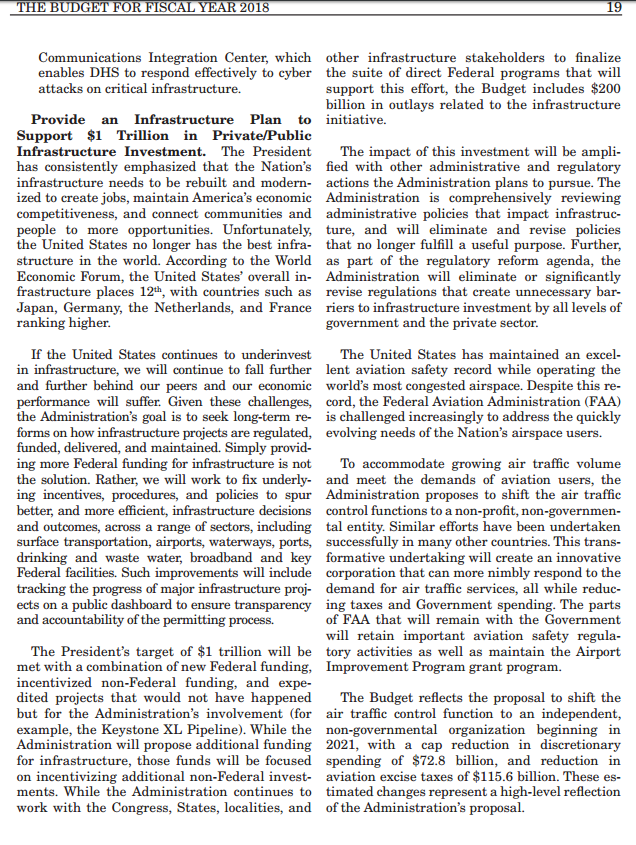 The 2018 budget proposal, titled "A New Foundation for American Greatness" featured one page of detail about the infrastructure plan.NPR
The proposal will rely on four key approaches: leveraging private sector investment, ensuring federal dollars are targeted toward transformative projects, shifting more services and underused capital assets to the private sector and giving states and localities more flexibility.
The package would also aim to speed up project delivery by eliminating or reforming regulations that can slow down projects. A fact sheet from the White House called the current environmental review and permitting process "fragmented, inefficient, and unpredictable."
The White House plans to pursue several other proposals within the infrastructure initiative, according to the fact sheet.That includes expanding the Transportation Infrastructure Finance and Innovation Act (TIFIA) program to $1 billion every year and expanding program eligibility; reducing tolling restrictions on existing interstate highways; allowing private investors to construct and maintain rest stops; and lifting the $15 billion cap on Private Activity Bonds.
The administration has also placed the National Infrastructure Investments (TIGER) grants on the chopping block.
See more from The Hill.