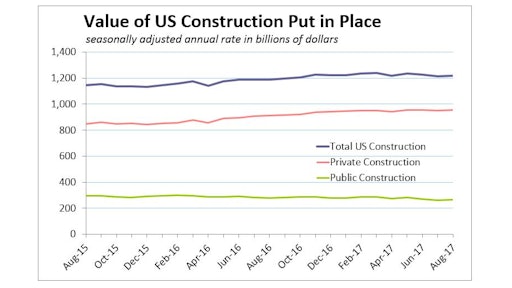 Data: US Department of Commerce
After registering declines in June and July, the value of total U.S. construction put in place in August managed a 0.5% rise to a seasonally adjusted annual rate of $1.2 trillion. Monthly estimates from the U.S. Department of Commerce show private construction buoying total construction outlays as government continues to spend less on most construction categories. Public outlays are down 5.3% year-to-date.
The scant August rise was construction's best showing since a 1.6% rise in May. But the August gain was not enough to recoup the losses of the past two months, leaving spending 1.5% below the May level.
Over the longer term, total U.S. construction spending year-to-date totals $806.2 billion, which is 4.7% greater than the same period of 2016.
Private residential construction outlays were up 12.6% year-to-date through August. Both single- and multifamily units were up solidly. Construction spending data in coming months are likely to be very volatile due to hurricanes derailing projects and as rebuilding gets underway. Seasonal adjustment will likely exacerbate impacts during fall months. We expect residential construction to be a drag on GDP until maybe next spring.
Total spending on nonresidential construction over the past six months is up just 0.2%, compared to the same six months of 2016. The six largest nonresidential categories are responsible for about 70% of all U.S. nonresidential construction spending. With the exception of commercial and office construction those categories are struggling to meet spending levels seen in 2016.