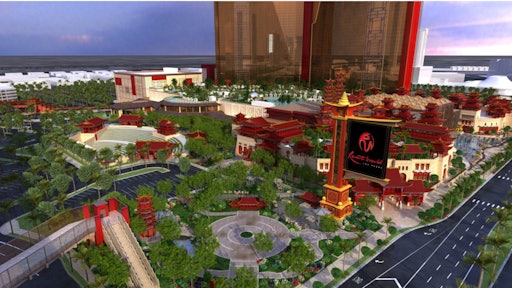 Resorts World Las Vegas (RWLV) announced the selection of W.A. Richardson Builders, LLC (WARB) as Construction Manager for the first, ground-up, integrated resort development on the Las Vegas Strip in a decade. WARB will manage all aspects of construction on the 87-acre site, previously the location of the former Boyd Gaming "Echelon" site and Stardust. 
Additionally, RWLV today announced that it has, up to today, awarded more than $400 million in contracts ranging from bulk orders for concrete and steel to tower crane equipment and operators. 
"Bill Richardson has tackled complex, multi-billion-dollar projects in Las Vegas on time and on budget. We are confident that he and his team have the know-how to ensure that Resorts World Las Vegas will be constructed to the highest standards with maximum flexibility for future growth," said Edward Farrell, President of RWLV. "In light of the recent tragedy in Las Vegas, we are proud to be able to commence significant construction on our site as well as recommit ourselves to our local community."
WARB, headquartered in Las Vegas, has been providing RWLV with pre-construction services, including infrastructure and utility work, the completion of the main parking structure, preliminary steel and foundation work, and permitting and remediation across the site to prepare it for the commencement of construction. WARB's contract as construction manager is being finalized over the next month.
"We thank the Genting Group for the opportunity to assist them in building this next generation resort on the Las Vegas Strip," said Bill Richardson, Principal of WARB.  "We are proud to bring our years of experience in building megaresorts on time and on budget to Las Vegas's newest casino operator." 
Bill Richardson and partner Yvette Landau have more than 30 years of experience in constructing large scale projects in Las Vegas.  Richardson was general contractor for Mandalay Bay, Monte Carlo, The Linq and The Cromwell and has completed major renovations and expansions to Luxor, Circus Circus and numerous Caesars properties. Richardson is a certified women's business enterprise with Landau leading efforts to ensure Resorts World maximizes its use of local, diverse labor.  Resorts World is committed to using union labor throughout construction.  
"Today also marks another important milestone in fully mobilizing this amazing project as over $400 million worth of contracts have now been awarded to date," added Farrell. "Through competitive Request for Proposal processes, we have selected leaders in their respective fields to provide that critical materials and services required to quickly mobilize the project."
Below is a list in formation of contracts awarded to date and the selected party:
Professional services
Third Party Special Inspections (Quality Control) – 3M
Geotechnical Inspections – Terracon
Survey Services – JS&S

Fire System Design – SAFE Electronics

Specialty Engineering – ENG
Tower Crane Equipment – Morrow
Tower Crane Operators – Dielco

Man-Lifts & Operators - Compass
Construction Materials
Structural Steel & Metal Decking – SME/Schuff
Micro-Piles – Nicholson
Drilled Shafts – Hayward-Baker
RWLV is expected to open in 2020. Details of the various amenities being offered at RWLV will be announced throughout construction.