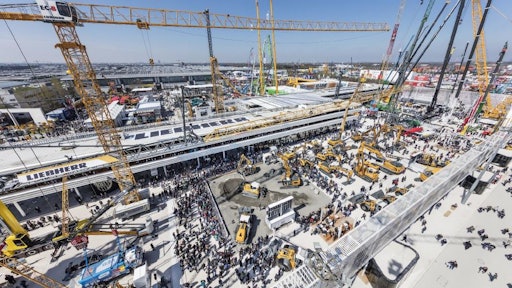 Favorable market conditions and the Liebherr Group's continued investment in growth has placed it on track for record turnover in 2017. 
"In 2017, we've seen market conditions improve along with the overall global economy," stated Stefan Heissler, member of the Board of Directors, Liebherr-International AG, Bulle (Switzerland). "We expect sustained growth to finish out 2017 and into 2018, both in industrialized countries and in emerging and developing economies. In fact, the International Monetary Fund (IMF) expects global growth to rise to 3.6% in 2018, compared to 3.1% in 2016."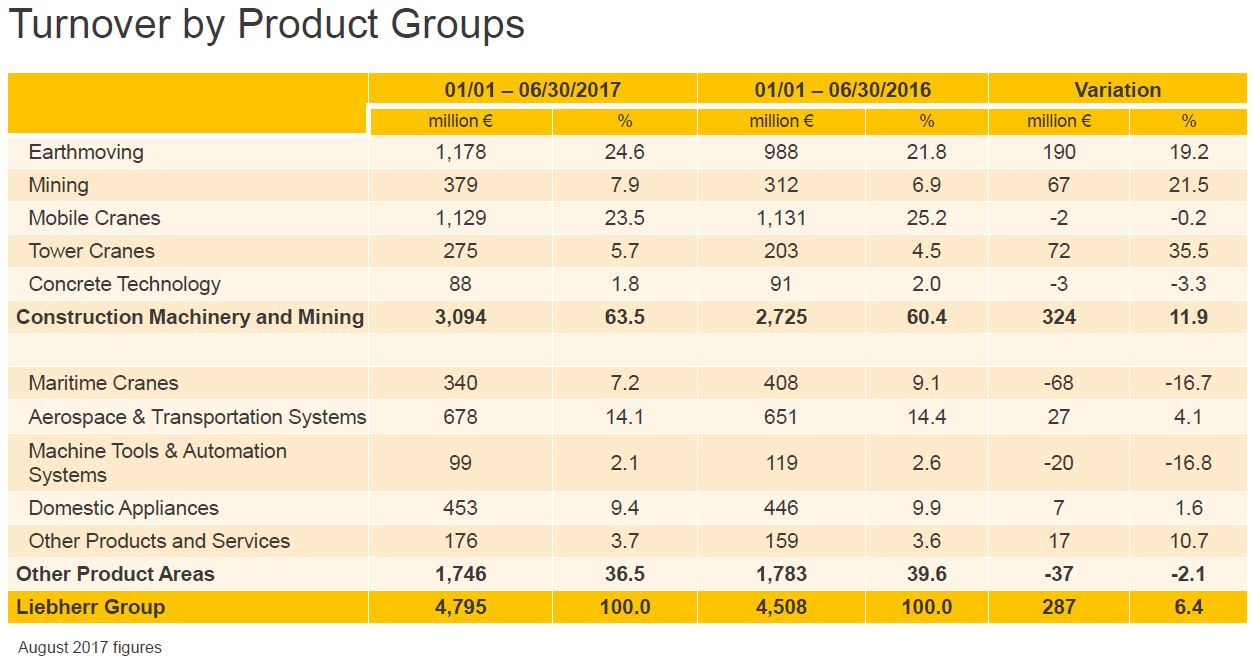 "Looking at the first six months of 2017, our turnover was nearly €4.8 billion. Compared to our turnover of €4.5 billion in first half 2016, this represents a 6.4% year-on-year increase," said Heissler. "We have seen a significant jump in incoming orders. While orders in past years hover around €4.3 billion to 4.4 billion, in the first six months of 2017, we've seen more than €5.2 billion in orders."
The company anticipates continued improvement in nearly all product divisions, with the most significant growth coming from Earthmoving, Mobile Cranes, Tower Cranes, Mining, and Tools and Automation Systems divisions.
"To ensure continued growth, we will also continue to invest substantially in our international production facilities, and distribution and service network," Heissler stated. "In 2017, we will invest €733 million in total. That corresponds to a 7.4% investment rate, which remains in line with past years."
The company also anticipates adding 2,240 new employees by the end of 2017, for a total of more than 44,550 employees worldwide. 
Keys to Long-term Success
Key success factors for the group going forward will hinge on securing and leveraging innovation for long-term growth.
"One of our success factors when it comes to creating a culture of innovativeness is the way we organize our R&D capacities to approach product development," Heissler commented. "Throughout the Group, we have 'start-up units' — groups of dedicated experts who operate like a start-up to develop innovations.
"The small, start-up organization has several benefits," he continued, "all of which facilitate innovation. The start-up teams are well funded and able to focus their energy and knowledge on one single project, independent from standard assignments. They are passionate, work closely together and take fully responsibility for the team's work, which improves the quality of new ideas and speeds up implementation."
According to Heissler, the start-up units have been responsible for some of the most exciting developments to come out of the Liebherr Group in past years. As an example, he cited the work of a team of five engineers working on how to use 3D printing to produce components for airplanes. As a result, in March 2017, Airbus successfully flew Liebherr-Aerospace's 3D-printed spoiler actuator valve block on a flight test A380.
"The team will continue to grow to manage the series production process and handle new R&D projects to optimize the 3D printing process," said Heissler. Another innovation born out of a start-up unit is the T 236 mining truck.
"In the Earthmoving division, we have a start-up unit designing for the future," he continued. "A growing team of three engineers and three students have created an intelligent new lighting system that adapts itself around a wheel loader to minimize glare or shadows while the machine is working. It's a brilliant innovation that increases safety and productivity.
"The same team is now looking at future demands: autonomous vehicles, driver assistance systems and remote operations," he noted. "Together with other departments, they will be responsible for the technologies that will further increase jobsite safety, lower operator fatigue, speed up working processes and, in the future, allow machines to be remotely operated from a distance or even work fully autonomously."
Companies in this article