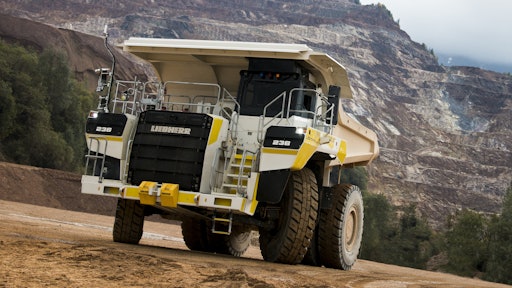 The T 236 rigid-frame mining truck can carry up to a 100-metric-ton payload and incorporates the vertically integrated Litronic Plus Generation 2 AC drive system with advanced Active Front End technology. By making efficient use of electrical energy during retarding events, the drive system is able to deliver controlled engine speed with almost no fuel consumption.
Vertical integration of Liebher-designed and manufactured components ensures the T 236 powertrain components achieve optimal system efficiency and performance throughout the full range of applications. The truck's variable hydraulic system lowers machine parasitics to provide maximum power, while lowering fuel consumption when power is not required.
With its high take off torque and continuous power to ground capability, the T 236 is less sensitive to grade and payload variations. According to the company, it is the first diesel electric truck to incorporate an oil-immersed braking system with four corner retarding capabilities, providing reliable braking technology.
To ensure the safety of maintenance technicians and bystanders, the truck is equipped with a double pole battery, starter motor and hoist system isolators as standard. In addition, it includes the Litronic Plus Isolation system, a drive system inhibit electrically interlocked to grounding devices for each plug and drive power module. Operating on a voltage level of 690 VAC and 900 VDC enables site technicians to carry out system maintenance.
The in-line electrical powertrain layout minimizes cable length, while the maintenance-free IP 68-rated plug and-drive power modules ensure reliable operation in all-weather situations.
The ergonomic cab and optimized front wheel suspension system promote driver efficiency with improved comfort, safety, acceleration and handling for increased performance.
The first prototypes of the T 236 are undergoing field functional and performance testing with an official product launch to follow.
Request More Information
Fill out the form below to request more information about
Liebherr 100-ton T 236 Mining Truck Features Innovative AC Drive System