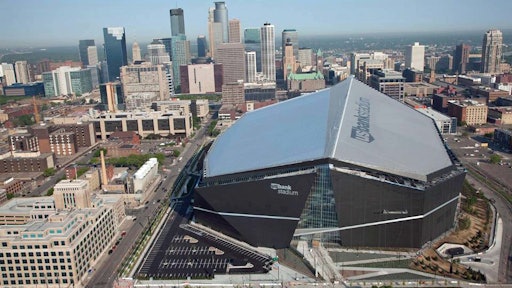 Minneapolis-based Tri Construction and other local contractors are in hurry-up offense mode as they complete Super Bowl-related projects in and around U.S. Bank Stadium.The contractor began work this week inside U.S. Bank Stadium in downtown Minneapolis to prepare for the National Football League championship game, which will be held Feb. 4 at the $1.1 billion venue.
For its part, Tri Construction is reconfiguring some of the seats in the stadium to accommodate the 5,000 or so press people who will be in town for the big game. Tri Construction will be back after the game to reinstall the seats.
Lisa Bartels, a senior project manager with Tri Construction, said the company has about 20 people on the job. Crews got a green light to begin after the Vikings played their last home playoff game of the season last Sunday.
"The start of our work was contingent on how the Vikings did in the playoffs and when their last home game would be," Bartels said, adding it would have been "a little more stressful" if their game next week would have been at home instead of in Philadelphia.
Even so, the work is ahead of schedule, she said.
Besides Tri Construction, other local contractors with a hand in Super Bowl preparations include Minneapolis-based Thor Construction, St. Paul-based Windsor Cos., and PCI Roads of St. Michael.
Preparations for the Super Bowl are ramping up in and around U.S. Bank Stadium. (Submitted photo)
Projects range from construction of a zip-line tower on Nicollet Island to a temporary performing arts stage on Nicollet Mall. A spokesman for the Minnesota Super Bowl host committeesaid Wednesday that more than 1,500 workers are performing the work on a tight timeline.
Workers include "a range of local folks" and others that have performed similar tasks for previous Super Bowls, said Mike Howard, a spokesman for the Super Bowl Host Committee in Minneapolis.
The work has to be done with a sense of urgency. Though the Super Bowl game is Feb. 4, the preparations need to be finished well before kickoff.