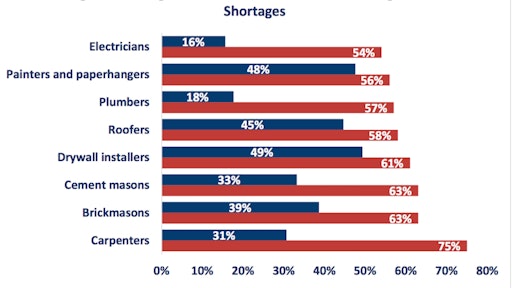 The U.S. Immigration and Customs Enforcement agency (ICE), which operates under the jurisdiction of the Department of Homeland Security, this week amped up its scrutiny of immigrant workers in residential construction across the United States.
An executive at one of the nation's largest home building organizations confirmed yesterday that Federal officials from ICE had contacted the company very recently, notifying senior executives it planned to do an extensive audit of documents of the enterprise's entire employee population.
What's more, ICE officials seeks details on the company's roster of job site firms and laborers, indicating it may inspect job sites and hold employers to account for documentation compliance among subcontracted trade crews.
The National Association of Home Builders notes here that an estimated 24.4% of today's construction labor force--as reported through the Census' American Community Survey and ACS Public Use Microdata Samples--is made up of immigrant workers. 
Already besieged by chronic and, in some places and among some construction trades, acute capacity constraints among semi-skilled and skilled workers, now, builders need to worry whether more than one of every four people currently working on construction job sites will safely show up with his or her crew.
Read more from Builder.