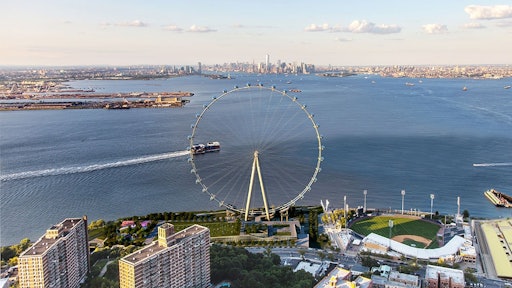 S9 Architecture / Perkins Eastman
Construction of the New York Wheel, a 630-foot-high observation wheel on the St. George waterfront, has been stalled for nearly one year after the original contractor, Mammoet-Starneth, walked off the job in May 2017. Now that the agreement between the New York Wheel and the contractor was finalized in court, the developer can now move forward to hire a new company to finish the project.
The agreement, signed in Delaware Bankruptcy Court, allows the New York Wheel 120 days to hire a new contractor to restart and finish the project. The New York Wheel is currently working to finalize arrangements with American Bridge as the new contractor. American Bridge also built the new Tappan Zee Bridge. It is also looking to hire engineering firm ARUP. The New York Wheel can terminate the deal any time before the 120 days are up if it can't obtain the financing needed.
(more on restarting the New York Wheel construction...)