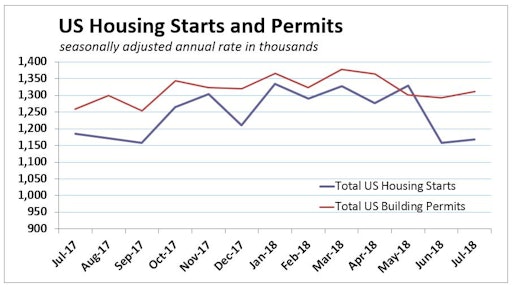 Data: U.S. Department of Commerce
Economists generally attributed June's 12.9% plunge in U.S. housing starts to housing's notorious monthly volatility, and various consensus forecasts looked for a 7% to 8% increase in July starts.
But U.S. housing starts managed just a 0.9% increase in July, coming in more than 7% below consensus forecast. It was the worst July since 2015, following the worst June since 2014.
"After a tough report last month, this is strike two for the housing market," said John Pataky, executive vice president at TIAA Bank. "This report reflects some fundamental issues that cloud the housing horizon."
Monthly housing-construction estimates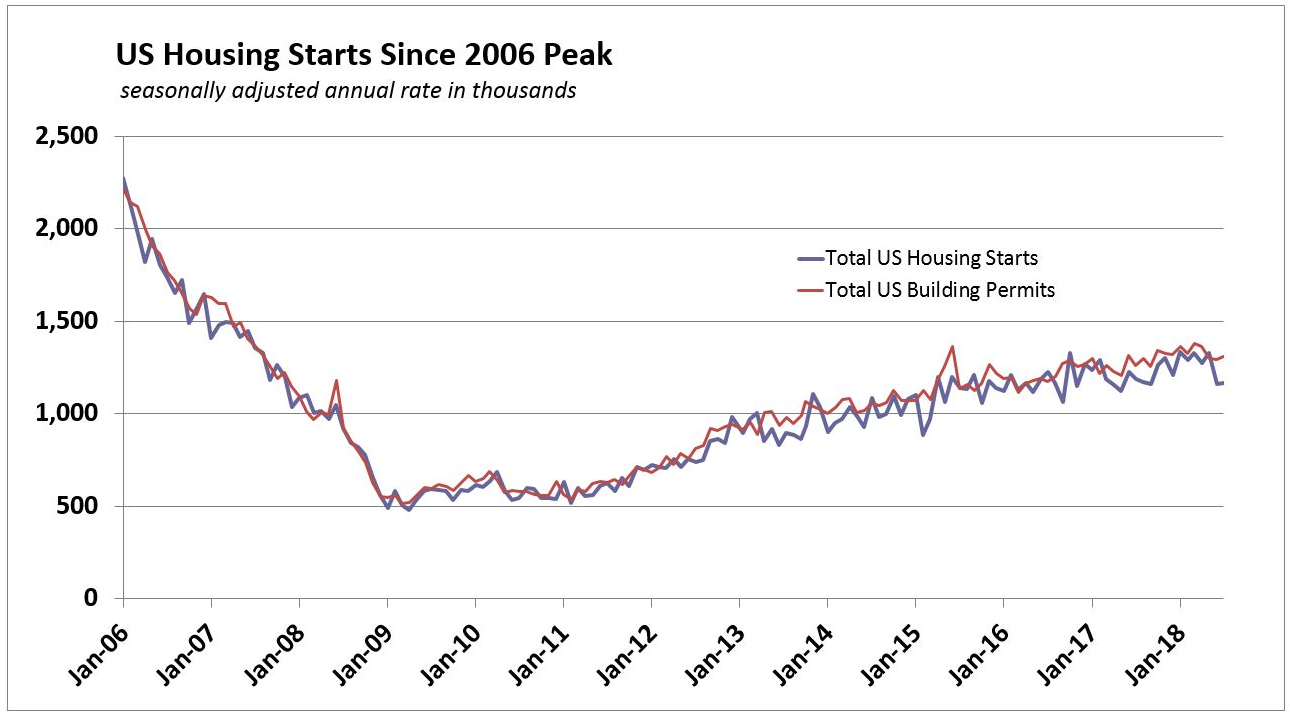 July's anemic 0.9% rise brought single-family housing starts to an annual rate of 1.168 million units, more than 11% below the 1.3 million that the NAHB calls a "normal" level of starts. issued by the Department of Commerce showed July's anemic rise brought total starts to a seasonally adjusted annual rate of 1.168 million units. Single family starts also grew just 0.9% to an annual rate of 862,000 (the National Association of Homebuilders says 1.3 million single-family units is a "normal" level of starts). Multifamily starts in July increased 3.1%.
The Wall Street Journal reported Bureau of Economic Analysis numbers showing residential investment contracted in four of the past five quarters, quoting Scott Volling, principal at PricewaterhouseCoopers, who reacted to the July housing starts estimates with, "June appeared to be an anomaly, but July results indicate a trend."
Building in the four Commerce-Department regions was mixed, but there was some reason to be encouraged.
"Starts in the South increased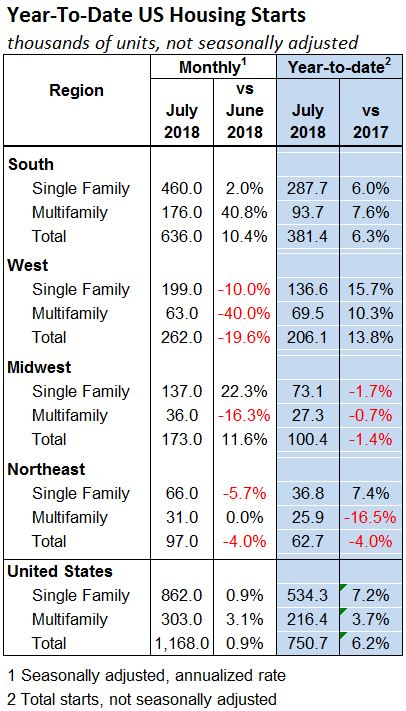 Year-to-date numbers show housing starts 7.2% above 2017, but weakening monthly numbers are starting to depress even longer-term trends of smaller Midwest and Northeast markets. 10.4% in July and regained their footing after declining for the prior two months. This is a positive sign, as roughly half of all new construction takes place in the South," noted the Wells Fargo Economics Group's analysis of the July estimates. "Meanwhile, the West, which is the second largest region for homebuilding, declined 19.6%."
Housing construction in the West tends to be particularly volatile, though, and starts since the first of the year in the region are up 13.8%, compared to the first seven months of 2017.
July starts increased 11.6% in the Midwest, but fell 4.0% in the Northeast.
New housing-construction permits had been expected to jump 2.9%, but gained 1.5%. The disappointing result did, however, turn around a four-month, 6.2% slide.
While recent monthly reports warn of a change in momentum, year-to-date housing data show actual growth. Total starts from January through July are 7.2% higher than the first seven months of 2017. There have been 6.8% more building permits issued (7.5% more single-family, and 5.1% more multifamily) since the first of 2018.
Builder confidence, while showing signs of having been shaken in recent months, remains high. All components of the NAHB Housing Market Index slipped one point in August, but remain well in expansion territory (over 50). The present-sales index slipped to 73, and confidence in the outlook dimmed slightly, as the future-sales index fell one point to 72. The overall index measured 67 in August.
"That builders continue to express such a high degree of confidence in current market conditions supports our stance that housing starts will be stronger in coming months," Wells Fargo asserts. "While our expectations have been slightly scaled back recently, we still expect new residential construction to strengthen.
"Rising material prices have been a detriment to new development for much of the year. Given higher costs for materials such as lumber, many projects now fail to pencil out and have been delayed, especially for entry-level homes. However, material prices have begun to ease recently, a trend that should continue in the second half of the year. Lower material prices should allow builders to restart some of the stalled projects and keep residential construction trending higher."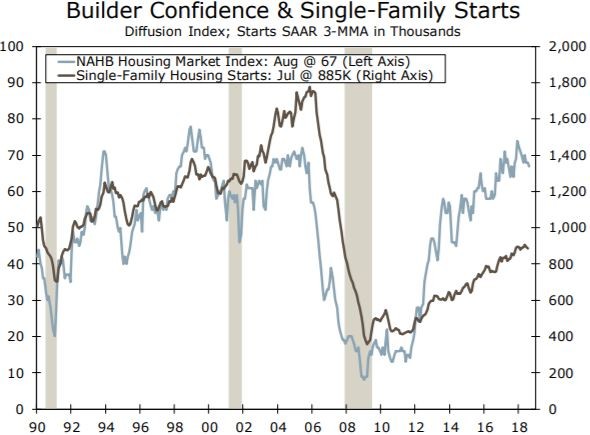 All components of the NAHB Housing Market Index slipped one point in August, but remain high. Builder enthusiasm has not grown this much faster than single-family starts in this century, leaving Wells Fargo confident in continued 2018 growth.Wells Fargo Economics Group