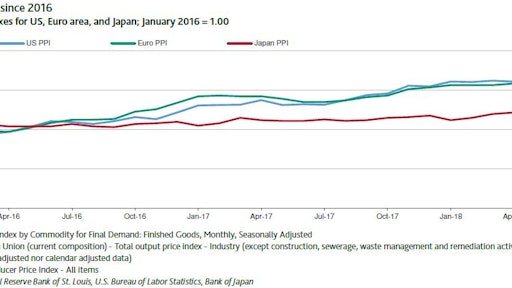 In a newly published report, Moody's Investor Service indicates the 12- to 18-month outlook for the global manufacturing industry is positive on robust earnings growth driven by strong demand across most sectors and end market. However, rising trade tensions and input costs could lead to a downward shift in the industry's bullish growth trajectory.
"Demand looks strong across most manufacturing sectors, which combined with efforts to improve operating efficiencies should drive steady revenue growth with modest margin improvement," says David Berge, Moody's Senior Vice President. "However, the threat of tariffs loom large as a significant risk to demand and profit growth.
Report Highlights:
Moody's expects aggregate EBITDA growth of 4.3% in 2018 and 5.7% in 2019, with the latter projection two percentage points stronger than its forecast in February of 3.5% growth next year.
The increased earnings forecasts are most heavily influenced by growth in three areas: Aerospace & Defense, Construction and Agricultural Equipment. Meanwhile, two segments are likely to see relatively soft growth: Utilities and Automotive
Tariffs will hurt manufacturers by 1) further raising input costs, 2) disrupting supply chains that rely on overseas production of raw material or components and 3) reducing the volume of exported US commodities, which in turn hurts demand for equipment in that segment.
Rising input costs could potentially slow margin improvement and constrain earnings growth. 
Specific to construction, Berge notes robust earnings growth is being led by the U.S. building products segment in particular. "Economic factors such as strong employment data, increasing housing starts, wage growth and high consumer confidence continue to support stronger backlogs and increased bidding activity in the homebuilding sector," he states. Beneficiaries of these trends include building products manufacturers and equipment rental companies.
Uncertainty Poses Risk
As a whole, Berge believes the uncertain trade environment poses the biggest risk to manufacturers. Escalation of tariffs could raise input costs and dampen long-term industrial growth.
"We estimate that the scope of current tariffs affect roughly $180 billion in international trade. At this level, we believe that potential input cost increases will not likely lead to a sharp drop in profitability fo rthe manufacturing industry," Berge states. He attributes this to being at a strong point in the industrial cycle; local sourcing; long-term supply contracts; and pass-through pricing. However, such mitigating factors are most likely found among larger manufacturers. Smaller companies "may not have the flexibility or market power to counter input cost escalation, and are therefore more vulnerable under even a modest tariff scenario."
Click here to download the full report.