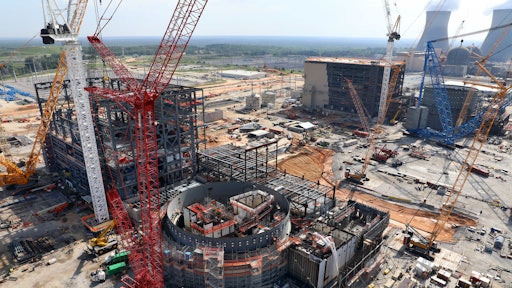 Georgia Power
Owners of the last remaining nuclear power plant still under construction in the U.S. – a reactor addition to the Vogtle plant in Georgia – agreed on Thursday that construction work will continue    .
Southern Co., the project leader, came to a new deal with co-owners Oglethorpe Power Corp., the Municipal Electric Authority of Georgia and Dalton Utilities, even as rising costs and unpredictable financial risks threaten the project. The agreement was made despite growing opposition among some local lawmakers and at least one community-owned utility.
Southern agreed to cover a growing percentage of the project's construction costs if the price tag continued to climb. The Atlanta-based utility also agreed to purchase future tax credits from its co-owners at a discounted cost.
The owners have been struggling for the past couple of years after the designer and lead construction contractor, Westinghouse Electric Co., filed for bankruptcy after costs rose and the project fell years behind schedule.