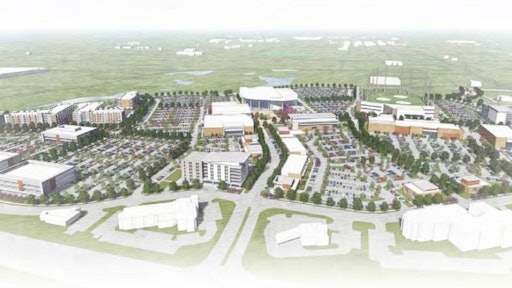 Woodbury Corp. is under contract to purchase the 100-acre site formerly home to Olathe, Kan.,'s Great Mall of the Great Plains, and will be redeveloping it as a $300 million mixed-use property.
The new project, called Mentum, is expected to include about 250,000 sq. ft. of entertainment, retail and restaurants, and 200,000 sq. ft. of office space. Additionally, Mentum will offer approximately 300 multi-family apartments (300,000 sq. ft.) and two hotels. Plans for the development are still being made, but a number of entertainment-focused anchors are being considered, including an interactive golf facility, a cinema complex and a fitness center.
Mentum will also feature a 4,000-seat arena and a community ice center for youth hockey, both of which will be operated by an affiliate of Loretto Sports Ventures, a company owned by Lamar Hunt, Jr. that operates the Kansas City Mavericks ECHL hockey team and the Topeka Pilots NAHL hockey team.
The arena will also serve as the home base for the Kansas City Youth Hockey Association (KCYHA). 
Over the past several years, Woodbury Corp.'s private equity arm has partnered on several Kansas City-based development projects, totaling 760 apartment units and 215,000 sq. ft. of commercial space. Woodbury Corporation is also currently a partner on developing of The District at Lenexa City Center mixed-use project and the Avenue 81 senior living center project in Overland Park.