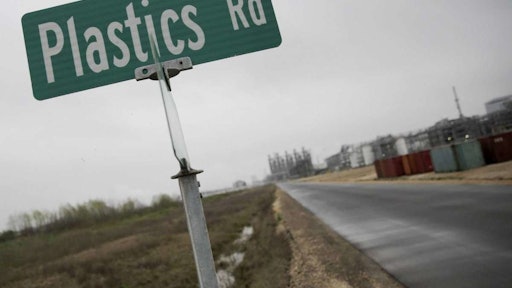 Elizabeth Conley, Houston Chronicle / Staff photographer
Plastics Road at Dow Chemical's Lake Jackson campus is now, perhaps, the most plastic road in America. If it holds up, drivers could find themselves rolling atop discarded shopping bags in no time — and with little notice.
As a test of its own polymer resin, the company repaved about 2,600 feet of the two-lane road around one of its newest polyethylene plastic manufacturing plants using an asphalt mix that includes post-consumer recycled plastic. It is a first for the company in North America, and one of the widest uses of recycled plastic for a roadway in the nation.
"It is creating a new use for something that needs to be recycled," said Jeff Wooster, global sustainability director for Dow Packaging and Specialty Plastics.
Dow officials and other researchers said there is growing interest in adding used plastic to the recipe for roads, provided these first tests pan out.
"We need to two to three years to give you the answers, but everyone is looking at it," said Sahadat Hossain, director of the Solid Waste Institute for Sustainability at the University of Texas at Arlington.
Crews paved Plastics Road and Gulfstream Road around the Dow facility in early January, using 1,686 pounds of low-density polyethylene plastic — the equivalent of 120,000 plastic grocery bags — along with rock and minerals bound together by the asphalt, a viscous mixture made mostly of petroleum that hardens.
Replacing just a fraction of that rock and mineral with plastic diverts millions of pounds that otherwise would fill landfills.
Read more from The Houston Chronicle.