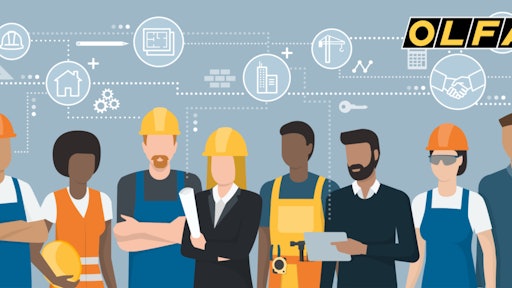 OLFA Corporation
According to the Bureau of Labor Statistics, the 2017 U.S. construction workforce composed of only 9% of women, 2% of Asians, 6% of African Americans and 30% of Hispanics. With April being Celebrate Diversity Month, it's important to recognize organizations that praise and support diversity within a company or group. OLFA North America announced its "Build Diversity" program because when organizations increase their diversity, everyone benefits – and that's a research-proven fact.  
According to McKinsey & Company research, companies in the top quartile for gender or racial and ethnic diversity are more likely to have financial returns above their national industry medians, while companies in the bottom quartile are statistically less likely to achieve above-average returns. 
The "Build Diversity" program is intended to support individuals, organizations, classrooms and apprenticeship/training programs that demonstrate diversity and inclusion toward creative and professional skill development. Qualified individuals or organizations can apply for the program on an annual basis to receive a gift of up to $1,000 in cutting tools and solutions at no cost to support their efforts.
"By embracing diversity and inclusion, we're forming a more vibrant, dynamic community of makers and professionals – because when people feel included, they feel inspired and empowered, which leads to creativity," said Jason Feldner, OLFA General Manager. "Our knives and cutting solutions are made to help everyone build and create – and we mean everyone, regardless of age, culture, ethnicity, gender identity, language, physical ability, race, religion, sexual orientation, size or socioeconomic status."
To apply for the program, organizations can visit this link and apply before May 30, 2019. OLFA will select recipients by June 15 and announce winners on social media shortly after the selection.
Learn More

How To Set Attainable Diversity Targets At Your Organization

Let's Fill the Construction Labor Shortage with Women

Attract, Educate and Build "Dreams" to Close Construction Labor Gap