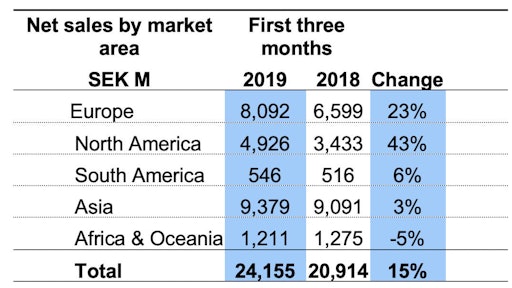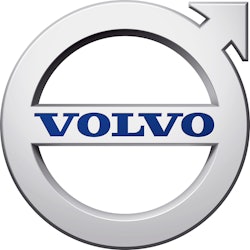 Stable market conditions in most regions helped propel Volvo Construction Equipment (Volvo CE) to a solid set of financial results in the first quarter of 2019, with the company posting good growth in sales, profitability and machine deliveries.
During the first three months of 2019 Volvo CE saw net sales jump by 15% to SEK 24,155 M (SEK 20,914 M in Q1 2018). These higher sales, plus improved prices and product mix, helped to positively impact operating income, which rose to SEK 3,646 M, up over a quarter (26%) compared to the SEK 2,888 M posted in the first quarter of 2018. This was reflected in operating margin, which also saw strong improvement, at 15.1%, compared to 13.8% in the same period the year before.
Deliveries were also up 5% during the period, to 23,139 machines, compared to 22,102 machines in Q1 2018.
The major global construction equipment markets of Europe and North America both saw growth in the first quarter, growing 3% and 4% respectively in the first two months of the year. The European market was driven by good demand from Germany, the UK and Italy, while growth in North America was boosted by growing demand for large wheel loaders, road equipment and articulated haulers. A recovering Brazil helped demand in South America rise by 5% during Q1, while Asia (not including China) slipped 4% compared to the same period last year. China, meanwhile, delivered stronger demand than expected, rising 23% compared to the first quarter of 2018. 
"The global market for construction equipment remained good in the first quarter," commented Volvo CE's President Melker Jernberg. "We are successfully managing these increases in volumes, and this good cost control is helping to deliver encouraging levels of operating income and operating margin."
Volvo Construction Equipment Sees Sales Up 27% in 2018
Volvo Group Results
The Volvo Group as a whole saw continued positive developments in the first quarter of 2019. "We increased net sales to SEK 107.2 billion (89.1), with all business segments and regions contributing. Both our vehicle and service business grew at a good pace. The increased sales volumes together with an improvement in our operational performance contributed to a rise in profitability. Our adjusted operating income increased by 53% to SEK 12.7 billion with all business segments contributing with higher earnings. The adjusted operating margin rose to 11.8%," says Martin Lundstedt, President and CEO.
Specifically, the global construction equipment market remained solid in Q1, in particular in China where the year started off better than anticipated. Compared to a year earlier, Volvo machine deliveries globally rose by 5% and net sales to SEK 24.2 billion (20.9).
"We increased our deliveries in all major regions. The Construction Equipment organization has successfully managed the increased volumes and Q1 was no exception, with the operating income rising to SEK 3.6 billion (2.9) and the operating margin to 15.1% (13.8). In early April, The Volvo Group made a strong showing at the world's largest construction equipment fair, Bauma, where Volvo CE premiered a number of new products and services, including fully electric machines and a new excavator in the important 20-ton class for Europe," Lundstedt reports.
Click here to access the Volvo Group report on the first quarter 2019.