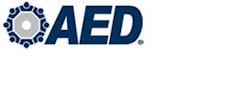 The AED Foundation recently announced a partnership with "Heroes MAKE America". Launched earlier this year by the Manufacturing Institute, part of the National Association of Manufacturers, Heroes MAKE America is designed to create a pipeline from military to manufacturing careers for transitioning service members, with a special focus on hard to fill production jobs. The Institute currently has training programs located at Fort Riley, KS, and Fort Hood, TX, and plans to continue to expand to three additional bases in 2019 with more to follow in future years.
The AED Foundation's Associate Director of Development Marty McCormack recently attended a Celebration of Veterans Kickoff Luncheon on November 13 at Fort Hood in Texas to see first-hand how the programs works. "I met several of the soldiers enrolled in the program and they are all impressive individuals," stated McCormack. "The AED Foundation is proud to be a partner and we look forward to the continued success and expansion of the program.
Heroes MAKE America is a full-time, 10-week U.S. Department of Defense approved SkillBridge program that is offered in partnership with the U.S. Army Soldier for Life Transition Assistance Program which links transitioning service members to civilian training opportunities. As part of the accelerated training program, service members will:
Earn three industry-specific certifications including a Certified Production Technician Certificate, OSHA 10 Certificate, and a Fork Lift Driver Certification
Obtain four targeted manufacturing credentials in Safety, Manufacturing Processes and Production, Quality Inspection, and Maintenance
Undergo a basic Math and Reading assessment
Prepare for job interviews in a full week of intensive career training which includes: resume review and writing; behavioral and mock interview training and a personal finance course
Participate in 10 to15 Manufacturing plant tours
Network with industry partners
Receive job placement assistance, both locally and nationally
One of the most beneficial features of the training program is that eligible service members can take the training while they are still on active duty. As an SkillBridge training program, the Heroes MAKE America program becomes their place of duty. Service members are enrolled in class full time, allowing them to be fully engaged in the training program while working toward discovering a rewarding career in manufacturing. Since starting in January 2018, the program has graduated 56 soldiers year to date, who have landed hundreds of job interviews with an 85% placement rate.