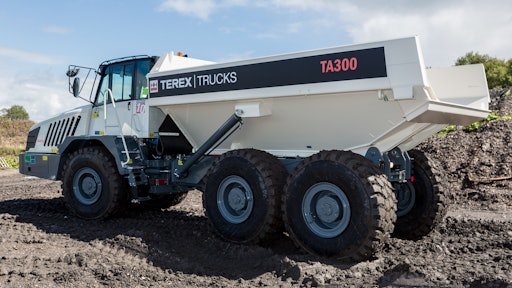 Visitors to the bauma 2019 exhibition in Munich, Germany, will have the chance to get up close to the newly upgraded Terex Trucks TA300 articulated hauler. This will be the first time the machine has been displayed at an international trade show and it will be displayed on the company's outdoor stand FN 720/9. The Terex Trucks team will be at the event, which runs from April 8th to 14th, to show visitors how the company's two articulated haulers – the TA300 and TA400 – deliver low total cost of ownership and high productivity at jobs including large-scale construction projects, infrastructure developments and quarries.
"Bauma is the world's leading construction machinery trade fair, and as such, it's a showcase of virtually every machine in the industry – but for Terex Trucks, it's all about the articulated hauler," says Paul Douglas, Managing Director of Terex Trucks. "The articulated hauler is the only product Terex Trucks manufactures – so therefore we're able to focus all our attention on this machine... We will also be discussing the investments and improvements we've made in our product line and our growing dealer network.
"Having recently launched an updated version of the TA300 that boasts improvements in fuel efficiency, performance, productivity and operator comfort, we see bauma 2019 as the perfect opportunity to display the hauler in front of a global audience," continues Paul. "As well as this, we'll also be using the show as a chance to inform people about our TA400, which is the biggest articulated hauler we make. In terms of maximum payload, it's 10 tonnes (11 tons) bigger than the TA300."
Since August, the TA300 has incorporated the new EP320 transmission, which comes with two additional forward gears – eight in total – as well as four reverse gears. This helps to ensure smoother gear shifting and thereby superior operator comfort. In addition to this, the truck delivers a 5% improvement in fuel efficiency, as well as enhanced performance, productivity and operator comfort. It also comes with long-life transmission fluid, which has helped to increase the length of time between oil maintenance intervals from 1,000 to 4,000 hours. The hauler's maximum speed has increased to 55 km/h (34 mph), up from 50 km/h (31 mph). Ultimately, this means that customers can achieve faster cycle times, reduce the cost of operation per tonne and minimize their fuel consumption.
"The TA300 is one of our staple products, hence why we worked long and hard to make it even better for our customers," says Paul. "The upgraded TA300 was rigorously tested for nearly two years internally and by operators on real jobsites, working in a variety of conditions."