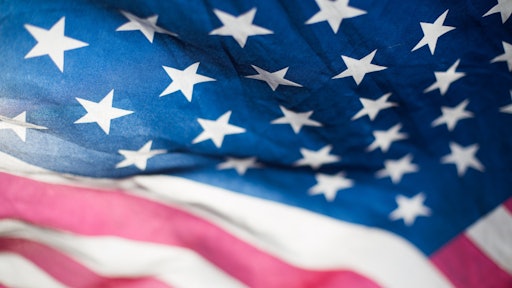 Photo by Lucas Sankey on Unsplash
Updated 8/1/2019
The Association of Equipment Manufacturers (AEM) and The Manitowoc Company, Inc. hosted  Vice President Mike Pence today at Manitowoc's Shady Grove facility. The Vice President called on Congress to ratify the United States-Mexico-Canada Agreement (USMCA) and highlighted how the new trade deal will add $68 billion to the U.S. economy and create over 176,000 jobs.. 
"The time has come for Congress to pass the U.S.-Mexico-Canada Agreement," said Vice President Pence. "This agreement is a good deal for Pennsylvania, it's a good deal for American workers and American agriculture. And we've got to get it done and we've got to get it done this year. In fact, I've been traveling all across the country telling the story of the USMCA and the difference that it's going to make, not only in manufacturing, but literally in industries all across this country."
The USMCA is the trilateral free trade agreement between the United States, Mexico, and Canada that will secure duty-free market access for U.S. equipment manufacturers to the industry's two largest export markets. Today's event was held at Manitowoc's manufacturing facility in Shady Grove, PA, in front of more than 1,400 company employees, and streamed live to tens of thousands of viewers across the country.
President Donald Trump entered into the USMCA with Mexico and Canada on November 30, 2018, but it has yet to be ratified by Congress prior to implementation. According to his Administration, the USMCA is "a mutually beneficial win for North American workers, farmers, ranchers, and businesses. When finalized and implemented, the agreement will create more balanced, reciprocal trade that supports high-paying jobs for Americans and grows the North American economy." The USMCA would update and modernize the 25-year-old North American Free Trade Agreement (NAFTA), which currently remains in effect.
The Office of the U.S. Trade Representative indicates the tri-lateral trade agreement would:
Create a more level playing field for American workers, including improved rules of origin for automobiles, trucks, other products and disciplines on currency manipulation.
Benefit American farmers, ranchers, and agribusinesses by modernizing and strengthening food and agriculture trade in North America.
Support a 21st Century economy through new protections for U.S. intellectual property and ensuring opportunities for trade in U.S. services.
Include new chapters covering Digital Trade, Anticorruption, and Good Regulatory Practices, as well as a chapter devoted to ensuring that Small and Medium Sized Enterprises benefit from the Agreement.
In Shady Grove, Vice President Pence toured before addressing attendees regarding what is described as the critical urgency to ratify the USMCA. According to the visit announcement, ratifying the agreement "will create jobs, secure access to the equipment manufacturing industry's two largest export markets, and ensure North America's manufacturing competitiveness."
"If you support U.S. manufacturing, then you must support the USMCA," said Dennis Slater, president of AEM. "The USMCA secures duty-free market access to Canada and Mexico, our industry's two largest export markets. With the USMCA, we will be able to keep North American manufacturing competitive for years to come. President Trump and Vice President Pence have kept their promise, now it is time for Congress to deliver for the American worker. We urge both Republicans and Democrats to work together to get this done."
"The USMCA will make sure equipment manufacturers such as Manitowoc are better positioned to compete and win in the global economy," said Barry Pennypacker, president and CEO of Manitowoc. "Congress should do their job and pass the USMCA so that we can do what we do best – make world-class cranes right here in Shady Grove, Pennsylvania."
A study by the U.S. International Trade Commission shows the USMCA would create an additional 176,000 U.S. jobs (0.12%) and raise U.S. real GDP by $68.2 billion (0.35%). U.S. exports to Canada and Mexico would increase by $19.1 billion (5.9%) and $14.2 billion (6.7%), respectively. U.S. imports from Canada and Mexico would increase by $19.1 billion (4.8%) and $12.4 billion (3.8%).
While the study indicates the agreement would likely have a positive impact on all broad industry sectors within the U.S. economy, the manufacturing sector would experience the largest percentage gains in output, exports, wages and employment. Equipment manufacturers support more than 47,000 jobs in Pennsylvania and 1.5 million jobs across the U.S. and Canada.
The AEM has been a leading voice in the fight to ratify the USMCA, and has been hosting events at equipment manufacturing facilities across the country to highlight the importance of the agreement to the 1.3 million men and women of the industry. AEM has also called on Congress to ratify the trilateral agreement immediately.