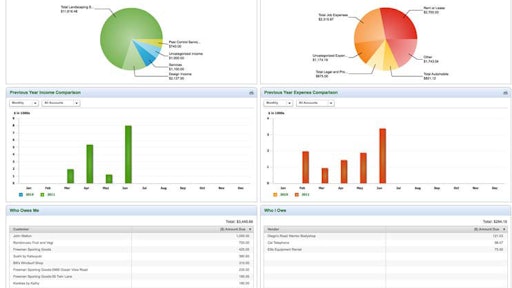 National Pavement Expo has always presented educational sessions to contractors who seek the latest and greatest technology and trends to help them improve their business. National Pavement Expo is also committed to providing contractors with management insights that can help them gain an edge over the competition.
And If you're not using a business management software solution to help track things like payroll, inventory, estimates and more, then plan to attend QuickBooks Basics & "How-to's" at this years' show in Charlotte, NC.
QuickBooks is a set of software solutions designed to manage payroll, inventory, sales and other needs of a small business. The software's features include marketing tools, merchant services, product and supplies, training solutions. Each solution is developed according to different industries and their needs.
For the pavement maintenance industry, contractors need an easy to use program that can help them handle their financial situation and QuickBooks can help immensely, if used right.
Gail Shaw of D & G Sealcoating and Striping Inc. and Linda Alfonsi of Petra Paving Inc. handle all the financials for their respective companies. What you learn from two contractors proficient in QuickBooks in the paving & pavement maintenance industry (who use it daily), can ease and improve your accounting operations.
This 90-minute session will teach attendees:
How to set up and create inventory, accounts receivables, accounts payables, payroll, estimates and financial reports
Teach contractors how QuickBooks can be used to set up and run bank and credit card reconciliations
Ensure contractors know how to take full advantage of QuickBooks' ease of use, flexibility, variety and ability to integrate functions
QuickBooks Basics & "How-to's", Session B18, will be held Thursday, January 28, 2016: 10:00 AM - 11:30 AM. Click Here To Register!
National Pavement Expo is proudly brought to you by