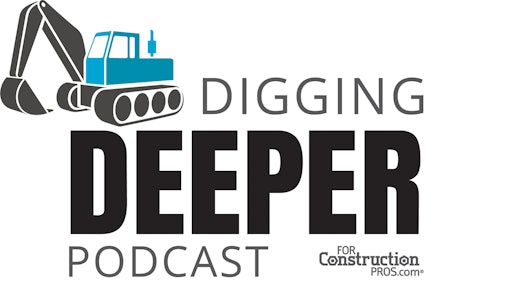 There is a lot going on and changing in the construction industry, and ForConstructionPros.com aims to keep construction contractors in the know and up to date. In September we launched our Digging Deeper construction podcast for construction contractors across all segments of the industry. Digging Deeper podcasts discuss all aspects of the construction industry with a variety of influential construction business owners.

We've already covered a wide array of topics and have many more planned for 2020. Below is a list of the top five most downloaded episodes of 2019 in case you missed them or want to listen again.
Suicide in the Construction Industry is Rising, and Prevention Needs to Be Addressed
In this Digging Deeper podcast, Stuart Binstock, president and CEO of the Construction Financial Management Association (CFMA) talked with contributing editor Becky Schultz on the pressing need to understand suicide in the construction industry and bring prevention to the forefront of discussion.
Bobcat Innovation Develops New Technologies to Keep the Company on the Leading Edge
Larry Stewart with ForConstructionPros.com sat down with Joel Honeyman, vice president of innovation for Bobcat Co., to find out what the Bobcat innovation team does and how their work has come to fruition through new Bobcat products and technologies, including a new mobile device remote control Bobcat recently introduced.
Bekaert Shares the Advantages of Fiber Reinforced Concrete
Curt Bennink sat down with Tim Lussier, national sales manager with Bekaert Corporation, to talk about fiber reinforced concrete and how it offers concrete contractors savings in both labor and materials.
Improve Cash Flow with the Profit First Method
Want to learn how to manage your cash flow and improve profitability at the same time? Shawn Van Dyke, construction industry consultant, not only explains how the two work hand-in-hand but what contractors can do to take advantage of this important relationship.

Vermeer Executives Talk XR2 Vacuum Excavator and Rebuilding After a Tornado
Equipment Today's Becky Schultz got a chance to speak with Vermeer executives following their unveiling of the new XR2 Vacuum Excavator. Vermeer President and CEO Jason Andringa and President of Industrial Doug Hundt showcased the exciting new hydro-excavator to an enthusiastic crowd – but as they explain, last year contained an unexpected obstacle.
Did you miss any of the Digging Deeper podcasts? Check out our podcast page for access to all our podcasts, including Digging Deeper and The Contractors Best Friend podcast.