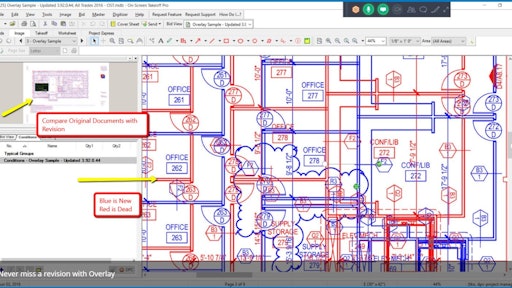 On Center Software
Today's construction estimators are using a variety of technologies to perform takeoff and create bids. The days of paper plans piling up on desks and in dedicated storage rooms are finally starting to taper off with the rise of digital construction.
Here are the top five technologies that On Center Software considers must-have tools to make estimating a competitive advantage.
Electronic takeoff -- The key to today's digital takeoff is the ability to quickly gauge the scope of work required of a trade via the takeoff functions in computer-based systems. This allows today's estimator to 'crank' out the quantity of estimates required along with the necessary accuracy.
Electronic bidding/estimate prep -- Today's estimating software automatically syncs with the takeoff systems so quantities are seamlessly connected to labor assignments, recap sheets with the ability to tally, re-tally and perform what-if scenarios within minutes of bid-due time.
Bidding management/email -- Email alone is almost the "old way" to communicate with prospective bidders, clients, and architects. Bid solicitation software operates at a minimum as a CRM, as well as tracking current and future bidding opportunities. But its main purpose is to manage outgoing RFPs, ITBs, etc. and responses.
Electronic job costing -- Although an estimator doesn't normally manipulate data in a job-cost system, they must be able to retrieve reports to back-check and update unit prices. Estimators use job costing to keep up to date on labor rates, confirm that materials are being purchased as bid and review tax rates.
Computer-aided scheduling -- Being able to chart out and plan a project where a main piece of material might not be able to be delivered until after a critical junction will be a key factor to assist the bidding team and show the client why they are smarter than the competition.