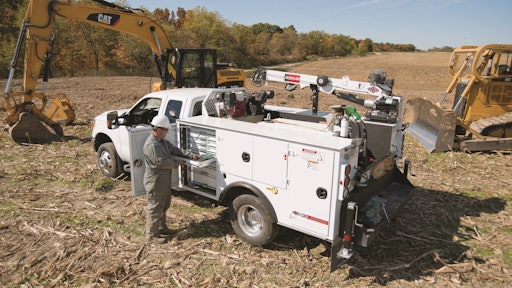 Many factors determine the productivity of your in-field service technicians. Among the most influential is the configuration of your mechanics trucks.
"Getting the most out of your service truck starts during the specification process," says Tom Wallace, sales manager, IMT. "Neglecting to properly specify the truck is a significant and potentially costly mistake."
A truck that is too large for your equipment will not maximize the return on investment, while a truck that is too small could mean needs go unmet and operation costs soar. "Prepare yourself before entering the buying process by doing your own research, and then work with a qualified mechanics truck distributor to design the right truck for your operation," Wallace advises.
Also make sure you understand all the options available. Craig Moses, vice president of sales and marketing, Stahl, explains that a common pitfall is not knowing all of the options available, or not taking suggestions from a reputable service truck upfitter who can identify options you may not have previously considered.
And though there is a trend toward spec'ing as much payload as possible while trying to stay under the DOT requirements for a CDL, the truck still needs enough capacity to perform the required job.
Match equipment size to truck capacity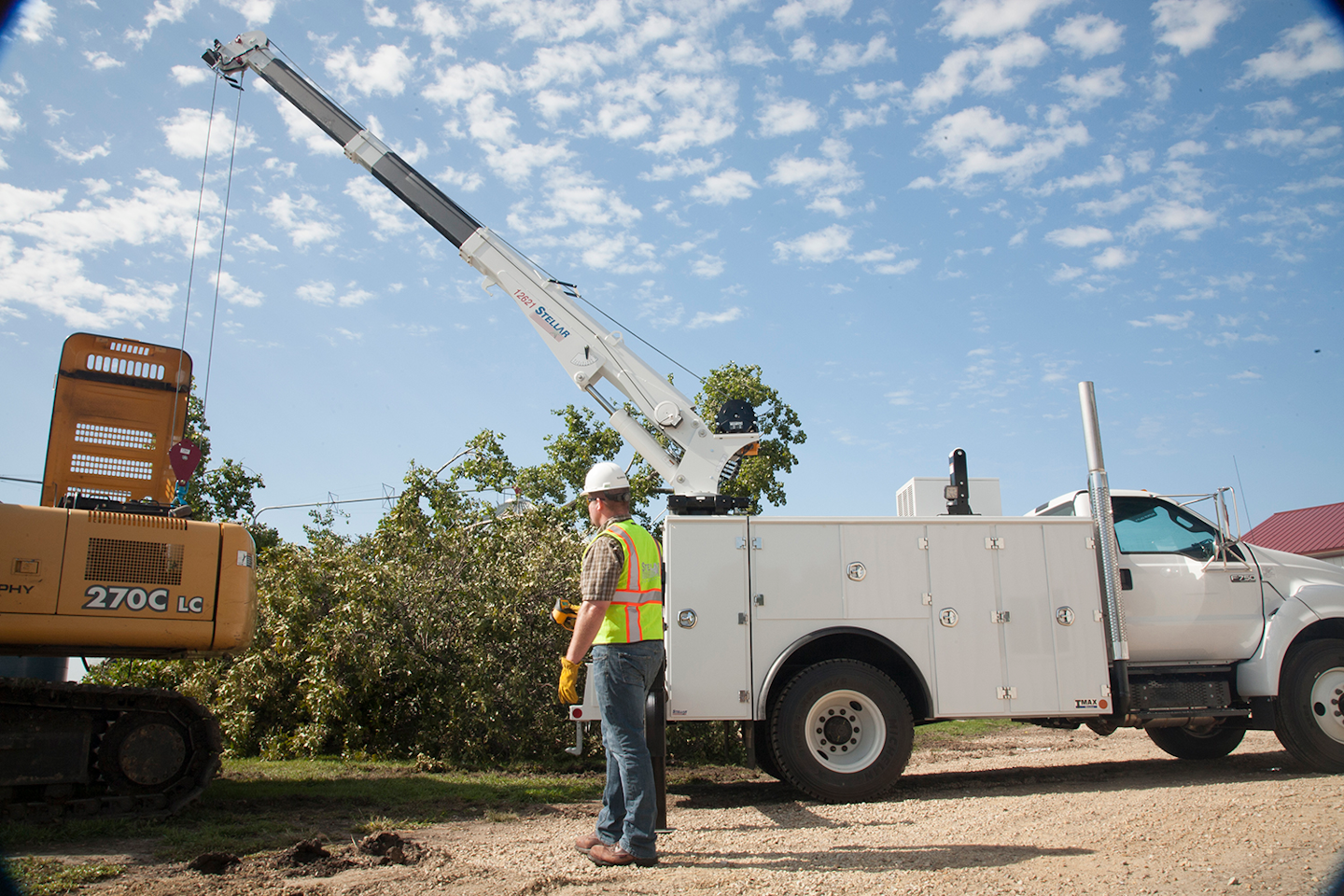 The size and type of equipment has everything to do with how much capacity you need in a crane as well as how much reach is needed.Stellar IndustriesThe difference between a productive technician and a frustrated technician can be as simple as the mechanic truck configuration.
"A service truck is a mobile repair shop and should be able to perform the work it is called to do," says Sean Moran, sales and marketing manager, Stellar Industries. "Just like a customer would be aggravated if they made an appointment to bring their equipment into a shop and subsequently found out the shop is not equipped to repair it, your crews will be similarly aggravated if the same circumstances happen when a service truck arrives." Plus, technicians may have to call in another truck, making the job more expensive.
"The size and type of equipment has everything to do with how much capacity they need in a crane, as well as how much reach is needed," Moran indicates. "If a contractor has pneumatic tools, then a compressor is a must. A welder is typically handy for any service [work] — from repairing brackets to fixing a fatigue crack in a component. Generators are becoming more popular to power the growing use of work area lighting and other electrical tools, as well as starting equipment with dead batteries."
Not buying enough capacity is among the biggest mistakes. "Most advice on buying field service trucks boils down to this: Don't buy a truck that's too small," says Wallace. "Often, managers underestimate how many tools and other items their crews will be carrying. Identify what you need the truck to do and what you need to have the truck carry — whether it is a welder, a 200-gal. diesel tank or a heavy jackhammer — to help guide your selection. If you don't take the time to carefully consider your intended purpose for the truck, you may end up paying overweight tickets or trading the truck for a bigger one in six months."
He adds, "Trying to save $500 on a $60,000 to $70,000 service truck by not getting enough crane reach, compressed air capability or roll-out drawers can create problems that may potentially come back to haunt you."
Consult with your technicians on their needs. "The tech needs to look at what size equipment they will be working on to determine the correct size of crane or air compressor and the correct capacity welder/generator," says Jason Klatt, Western regional sales manager, Maintainer Corp. of Iowa. "The size of the equipment being serviced will determine what crane overall reach length and lifting capacity are needed so the tech can do the repairs in a safe and timely manner. Most techs will run either a 1/2- or 3/4-in. air impact, so it is important to make sure the air compressor cfm is great enough to operate these size tools."
"Make sure you select a crane capable of handling the heaviest lifting need you might encounter," Wallace emphasizes. Lifting needs dictate crane size, which governs the size of the body. "Crane size, body size and required payload combine to decide the size of the chassis. The required tools included on the truck, combined with other air needs, will determine whether a rotary screw or reciprocating air compressor is added. These interdependencies make complete systems integration an important capability to require from a service truck manufacturer."
To recoup the investment in a mechanics truck, some contractors are asking the trucks to pull double duty. "Recently, we've been seeing more requests to add lube systems and reels on mechanics trucks," says Wallace. "The goal is to be able to send a truck out and not only lift and service the equipment, but also provide lubrication services without bringing equipment in from the field."
In this case, a lube skid can be stored in the bed of the mechanics truck, giving you lubrication capabilities without a dedicated lube truck.
Avoid This Common Pitfall
There will always be trade-offs when it comes to spec'ing a service truck. "There is always the 'cost vs. benefit' trade-off that occurs when it comes to what components to install and how custom to make the up-fit," says Moran. "Then there are trade-offs that happen as a contractor begins to come against their chassis GVW restriction, with consideration of how much payload capacity is needed."
One of the most common pitfalls when spec'ing a service truck is choosing a chassis before defining the full specification of the service truck required.
"A truck equipment distributor and the chassis dealer should be in communication with each other to make sure the correct chassis GVW is chosen with the correct wheelbase and clear cab-to-axle requirement," says Moran. He recommends you request a weight distribution from the equipment distributor to make sure you have the payload you want after chassis upfit.
"Also discuss the horsepower and torque rating with the chassis dealer, which is driven by the expected loaded weight — which typically pushes the limit of the GVW — as well as where they expect to drive the truck," he advises. "An underpowered truck is frustrating for the service tech driving it. A truck that is used in a flat city won't need as much power as one that is used in mountainous terrain.
"If the chassis isn't equipped with the proper axles and suspension, there is concern of being overweight," Moran adds. "When there is not clear back of cab to rear axle, it may take a lot of extra time and money to modify the chassis to get it to work in an upfit — if it will even work at all."
Make Safety a Priority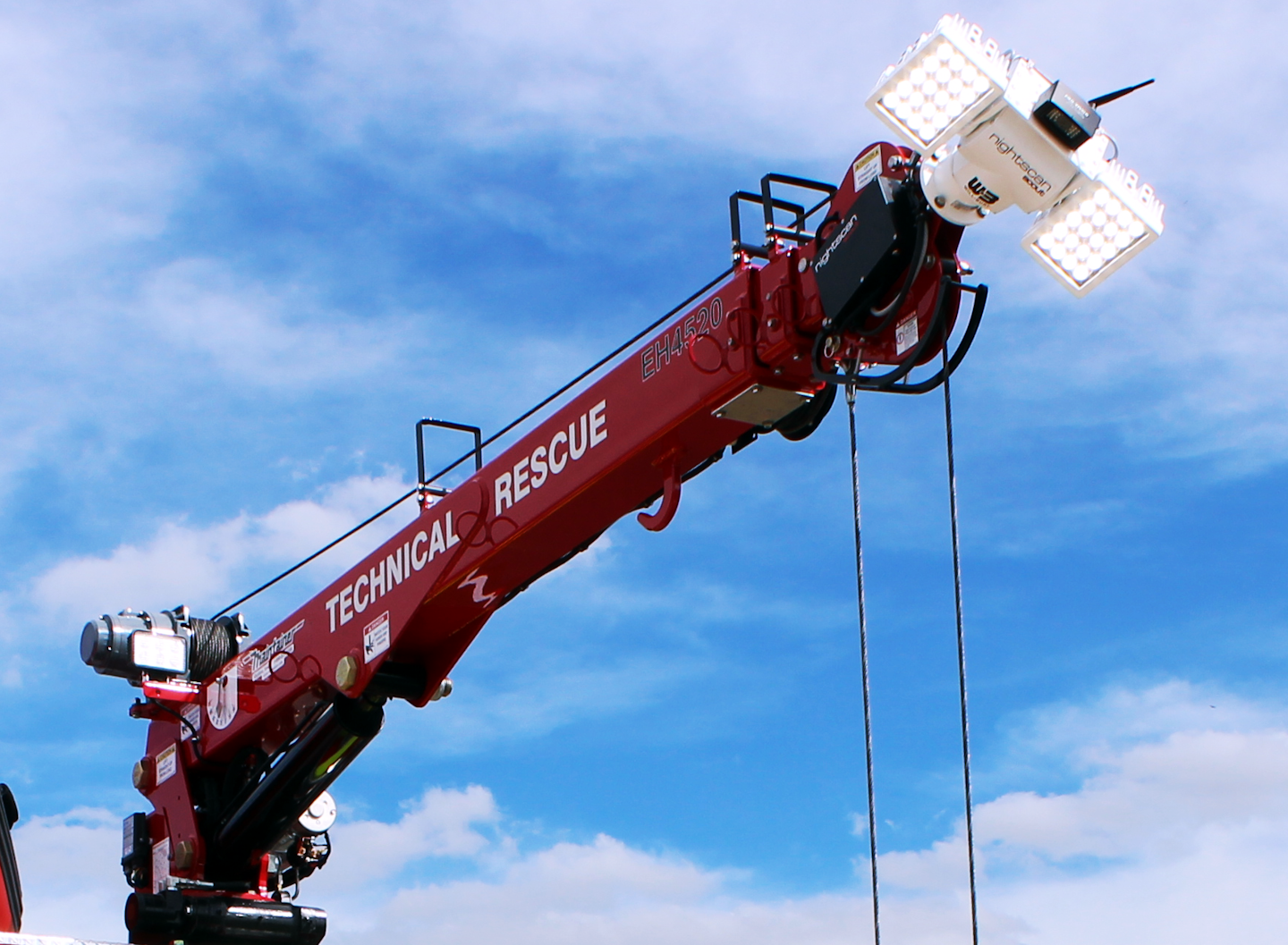 Key design considerations for the technician include proper lighting for night work and safe and easy access when climbing on and off the service body. Maintainer also offers lighting on the crane boom tip and optional 120-volt halogen light, fire rescue style lighting.The crane on a service truck comes with many safety considerations. "Crane overload protection systems are critical safety components and in recent years have become much more sophisticated in monitoring lift capacities and load of the crane," says Wallace. "Take the time to carefully examine load charts before you chose a crane."
In addition, Moran notes that modern radio remote crane controls provide the ability to have feedback in real-time at your fingertips.
"A technician's safety and productivity should always be considered, and in that order," he continues. "Lighting options are readily available so a contractor has a variety of choices. Compartment lighting is practically standard, as is mounting floodlights on the top of compartments. LED lighting is popular as their lumens vs. voltage is beneficial. Many contractors carry work area stand lighting with them, as well; therefore, the proper storage location should be determined when specifying the truck, as well as where to put GFI electrical outlets to power them."
According to Klatt, for the technician, key design considerations include proper lighting for night work and safe and easy access when climbing on and off the service body. Maintainer also offers lighting on the crane boom tip and optional 120-volt halogen, fire rescue-style lighting.
IMT offers continuously downward pointing boom tip lights for after dark jobs. "The boom tip lights cover a wide area, not just a single point, so the entire area is spotlighted," says Wallace. "We've been able to utilize the efficiency of LED lighting across our trucks. The LED lights provide brighter and more efficient solutions than previous generations of lighting."
Moses agrees, stating, "LED lights are definitely the way to go for safety purposes."
"Small features that are sometimes easily overlooked can actually have a big impact on the user experience of a service truck," Wallace notes. For instance, IMT recently introduced a rear access package that provides operators an extra step and extended handle to more easily access the truck bed. "When you are getting in and out of the truck several times an hour, the extra step makes a big difference in comfort level."
In the past, Stahl applied skid tape to bumper tops for increased safety. "We have just introduced a circle embossed (punched) bumper which will allow for better grip and looks better, too," says Moses.
Storage Space a Critical Concern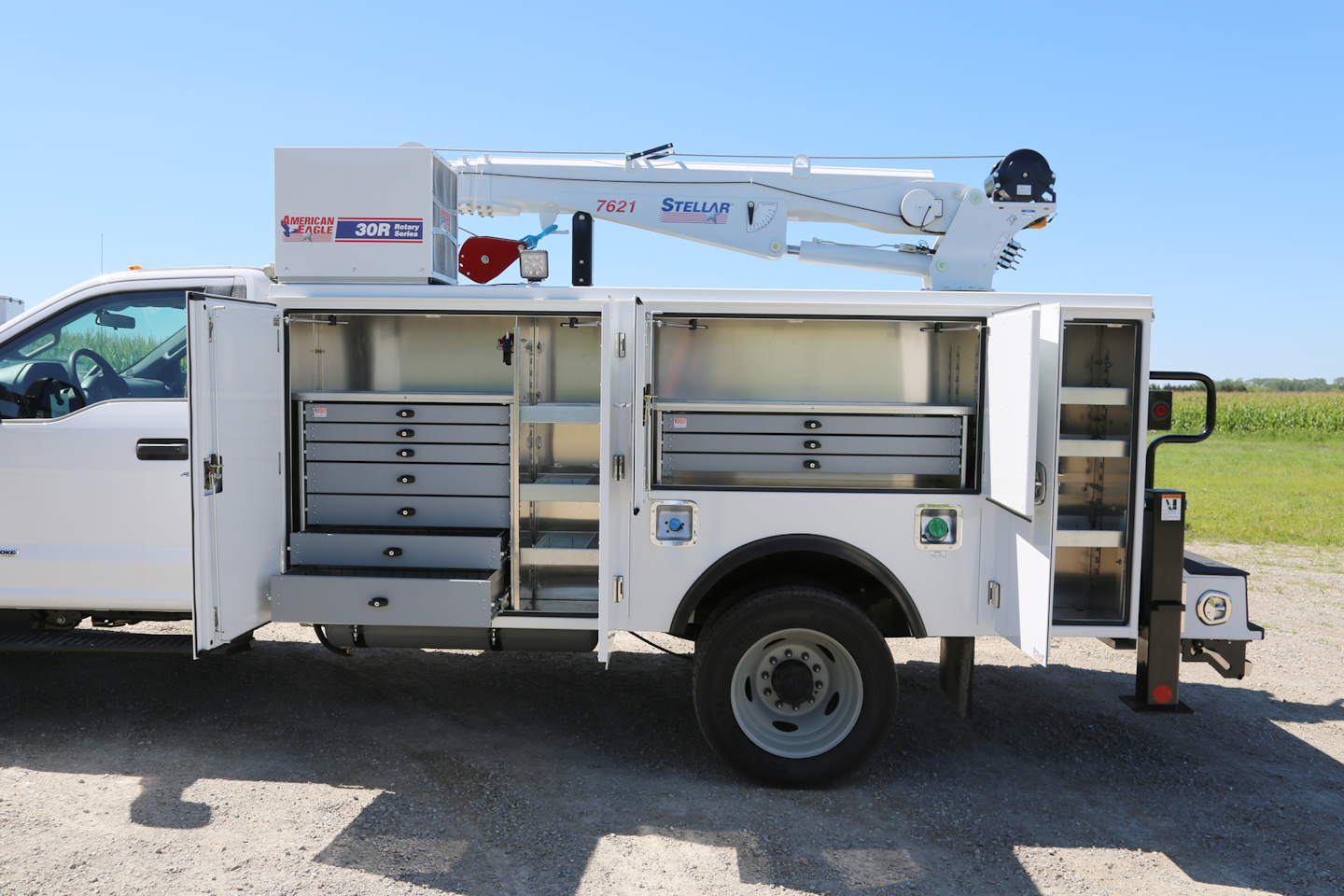 Not having enough payload and storage is a common complaint. Technicians typically want to have everything they can think they may need with them, therefore, they want payload and they want organization.StellarEnsure the service body has enough storage space inside and out, Klatt advises.
Not having enough payload and storage is a common complaint, says Moran. Technicians typically want to have everything they think they may need with them; therefore, they want both payload and organization. To address this, aluminum drawer systems and bins are becoming popular to allow for more storage at a reduced weight from steel. Aluminum service bodies are also being used to allow for more payload.
Another common complaint is water intrusion into the body compartments. "Properly designed doors that seal out precipitation and installation of components that don't allow for outside moisture to intrude is required," says Moran.
Tool organization equates to increased productivity. "Properly specified storage systems, which allow the technician to properly organize everything he needs to have, will make him more productive as well as allow for proper care of expensive tools and supplies," says Moran. "GFI electrical outlets located where needed for recharging and powering electronics and electrical equipment is also handy. And for sure, a comfortable cab will go a long way. Contractors should work with their upfitter on the location of anything that is installed in the cab to agree upon a friendly location for the technician."
Equipment managers should think about convenience options, like roll-out drawers and extra shelving. "Once you start outfitting the truck with tools and other equipment, you might discover that you need even more organization," Wallace points out. "Bed liners are also an important option to consider because they help alleviate some of the damage caused during regular use and extend the life of the bed, while also giving you a better looking bed for longer."
Consider Technology Changes
Modern equipment with sensitive electronics, tablets and smartphones are changing the nature of how equipment is serviced.
"The use of electronics is driving the need for clean electrical power, and the proper power inverter should be chosen to provide for powering and recharging as needed," says Moran. "Telematics are also becoming prevalent and some chassis OEMs have specific requirements as to where telematics can be connected to the engine ECM. Their upfitter and chassis dealer both need to be aware if telematics will be installed and who is expected to install it."
Advances have been made in components, as well. "Everyone from the chassis to the service body and crane manufacturers are always coming up with new technologies — especially in the areas of latches, door handles, hinges, body materials and paints — to defend against corrosion," says Moses. "[Stahl] worked with the paint suppliers to develop special blends of paint that cover at a thicker mil and defend against corrosion and road grime. We have a new LED surface-mounted lighting package which is simple to install and reduces leakage potential."
A further technology advancement has been the introduction of lightweight materials in the mechanics body. Alternative materials can reduce weight and increase payload. "Using aluminum or other lightweight materials in the equipment is becoming increasingly popular," says Moran.
"Over the last 10 to 15 years, Maintainer has continued to find ways to take weight out of the overall unit without giving up strength," says Klatt. "Maintainer was the first company to go to aluminum doors on a steel service body."
 "Weight is always a topic that comes up among technicians. We address the weight issue by designing lightweight features like our inverted a-frame," says Wallace. "IMT is always looking to reduce weight where possible without compromising the integrity and safety of our equipment."         
Companies in this article