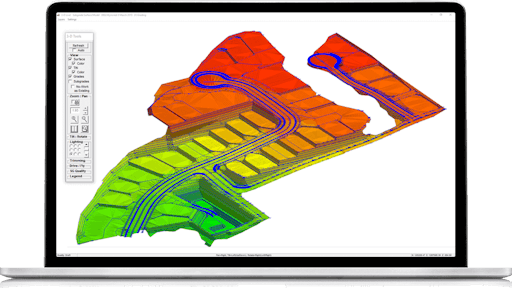 Stan Gonterman, founder of SKG Consulting, says InSite SiteWork software is the most economical cut and fill, take off and GPS modeling solution on the market. The software has all the functionality and features he needs to do his work.
Founded in 2008, SKG Consulting provides estimating and project management services for smaller companies that can't afford a full-time estimator or project manager and for companies who need short-term labor. "Maybe they are considering a lot of bids in a short time and need some extra help—I provide that service for them," says Gonterman. "I am a one-man show."
Gonterman began using InSite in 2014. "I was trying to find a good approach—a fast and easy way to quantify earthworks on projects that I am preparing bids for. After a lot of investigation, there are other systems—some higher-end systems with a lot of brand recognition, but they are too costly."
Then he discovered InSite. Gonterman found it performed the work that the other software does "but at a much more affordable price, which is great for smaller companies, such as mine."
Eliminating old ways
"I've been doing this for 30 years. When I started, we did the old paper-and-pencil way, and I don't want to go back to doing that again."
After using pen and paper, Gonterman had since moved onto other digital processes by the time he adopted SiteWork, but even those digital processes included some hand work. "The greatest benefit to using SiteWork was that it allowed me to eliminate my old digitizer and move to PDF and CAD plans that are 100% digital," says Gonterman. "The new system is a lot quicker. It sped up my production by 50%. The turnaround for my customers is a whole lot faster."
The old digitizer system required paper plans taped to a digitizer. The plans were expensive, and the time spent tracing contours was tedious. With SiteWork there is no plan or printing fees as take-off is on screen using a mouse. With a laptop an estimator can work anywhere. 
"InSite SiteWork allows you to zoom in as much as necessary, which is a great benefit. With the old digitizer, you couldn't zoom in, so when lines are close together, it was hard to be accurate." says Gonterman. Alternatively, if you are given a vector PDF, the contours are just selected, without tracing." 
A hi-tech, easy-to-use solution
Gonterman describes SiteWork as an easy-to-use and intuitive solution. 
"Although easy to use, a new user probably can't use it out of the box without some kind of training," says Gonterman. "I had used competitive products, so I was familiar with some of it, but I still needed training to take better advantage of all the features needed to run my company."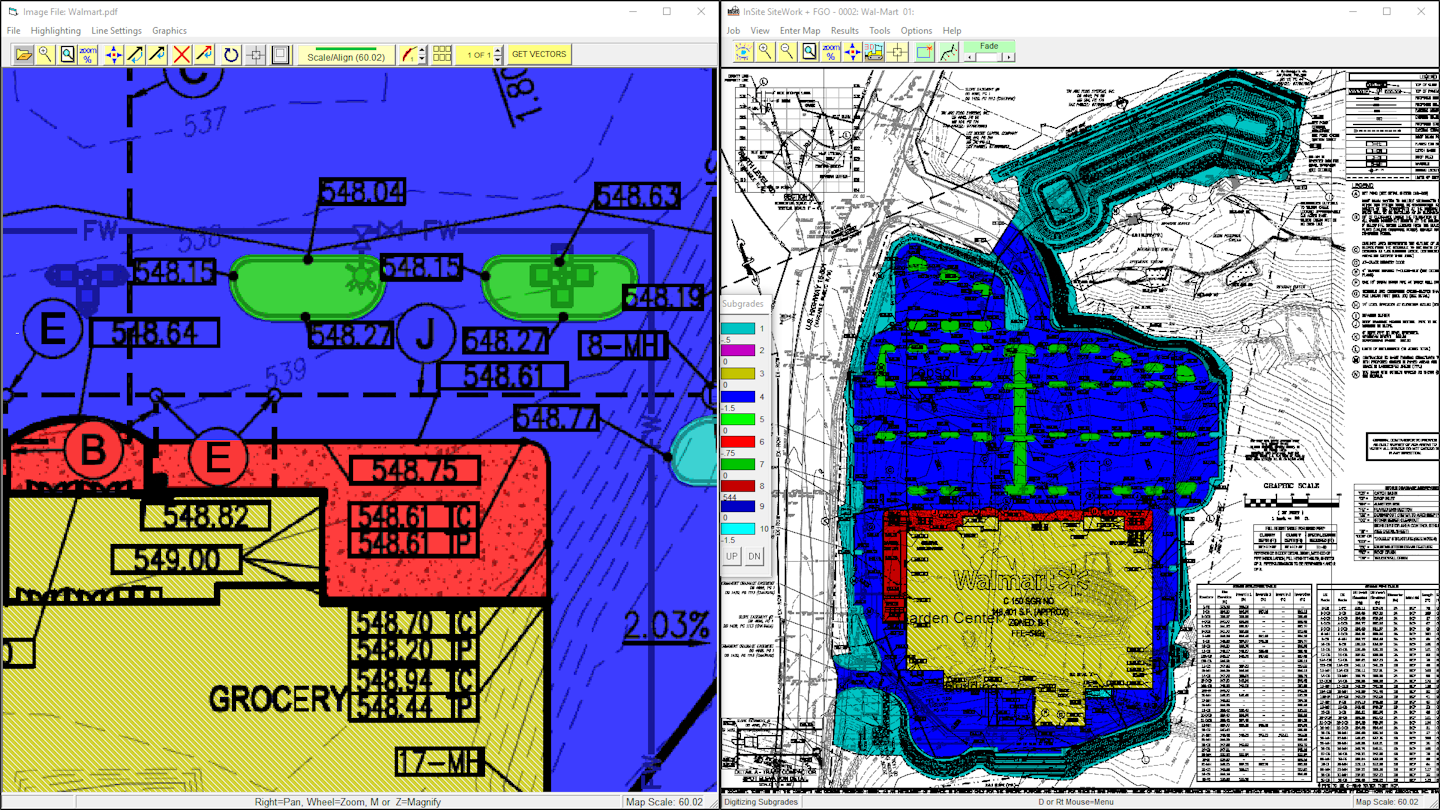 A split screen showing a close up and a full view of a retail outlet plus parking lot project.InSite Software offers instructor-led classes each month that take users from basic to advanced. "After one training session, I had enough of a grasp of the technology that I could do my work and learn the rest." 
InSite helps users calculate cut and fill, stripping and demolition. Estimators can enter existing and proposed contours, spot elevations and sloping lines to define the existing and proposed surfaces. Boring data can be entered to get a breakdown by strata. Built-in materials take-off allows paving, concrete and topsoil re-spread. A site balancer allows for value engineering. 
Another benefit for estimators such as Gonterman is SiteWork's 3D Live feature, which allows estimators to view subgrade surfaces in a separate window in high resolution 3D. Changes are instantly updated in the 3D model, allowing users to easily spot mistakes in the plans so corrections can be made. InSite also includes areas and lengths take-off and trench excavation and backfill. 
"PDF plans often have details spread across multiple pages. InSite lets me merge them all together even when they have multiple scales. If you can get your hands on the CAD file for a project, that brings the ease of use and productivity up to a new level because you can import CAD files straight into the program and, within a matter of minutes, you can start summarizing earthworks quantities." 
Accurate quantities translate into fairer pay
The final big benefit provided by SiteWork is accuracy, says Gonterman. More accurate quantities lead to more accurate bids, which can lead to a greater chance of being tendered the contract for a project and getting paid fairly for it. 3D graphics, cross sections, cut and fill plans overlaid over the PDF are provided to prove the accuracy of the take-off.
"I am confident the software increases accuracy. Digital tallies always produce greater accuracy than manual ones. And my customers are happy that they are getting more accurate earthworks quantities, too," he says.