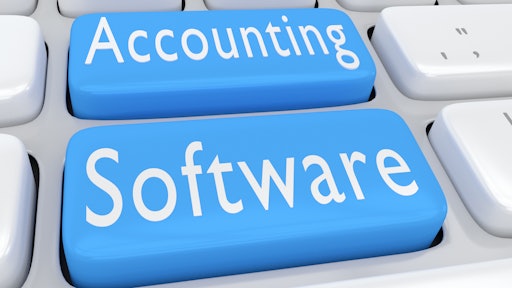 ©hafakot – stock.adobe.com
As your subcontracting company evolves, your business infrastructure needs to keep up with it. These days, there are so many technology options for accounting that can complicate the process of choosing the right software.
For example, your roofing, plumbing, or landscaping business must consider multiple factors when implementing new accounting software. Does it align with your company's current and future needs? Will you receive migration assistance? Will it help your team make better business decisions?
Fortunately, by organizing your financial data with the right tools, you can make these decisions quickly and more confidently. Let's explore five factors to consider when selecting construction accounting software for subcontractors.
1. Align software features to your subcontracting company's needs
Too often construction subcontractors purchase new software only to learn later that only a few of the features can actually support their team. When evaluating your accounting software options, it's important to assess how the platform will directly improve your business operations.
Easily turn estimates into invoices
Subcontractors spend hours every day on the tedious process of invoicing and billing their clients. Automated invoicing features within accounting software allow your subcontractor business to keep track of paid and overdue accounts and schedule invoices for recurring accounts.
More importantly, you need a tool that will help you clearly state your scope of work, deliverables, due dates, and costs to the client. With the right accounting software, you can do all that and quickly convert those estimates to invoices—making it easier to seal the deal with your customers.
Track all your costs and identify profitable projects
With so many moving parts in a plumbing project, it can be difficult for your team to track project costs, like pipe fittings, gas expenses, and labor hours, from beginning to end. Accounting software helps you manage every detail from the start. You'll save money by tracking time, materials, payroll, and expenses. Good job costing helps you avoid unpleasant cost overruns with accurate projections.
Once you have job costing under control, you'll have data-driven answers to some of your biggest questions: Are you running profitable projects? What is your profit margin? Who are your most profitable and least profitable clients? With these insights, your subcontractor business can spend more time managing customer relationships efficiently and invest more in profitable projects.
Run your business on the go
Your projects happen at various off-site locations. So, you'll need to access your accounting data on the go. Accounting software makes it possible to use your mobile device to enter transactions, record expenses, invoice customers, and send reports anywhere. Your data is automatically backed up to the cloud and syncs across all your devices.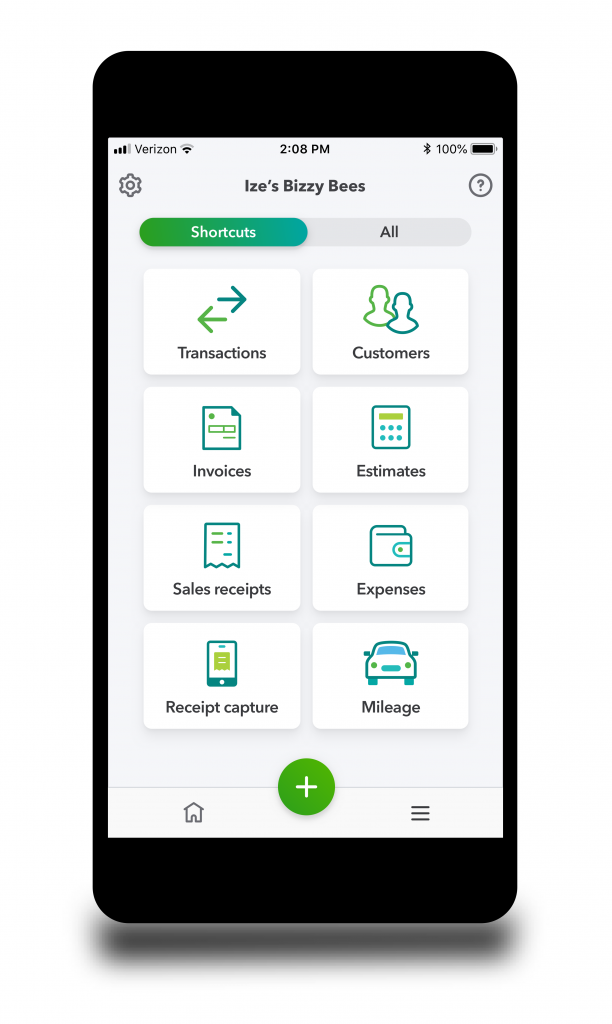 IntuitAn additional benefit of accounting software is the ability to create professional project estimates right on your mobile device. You can attach plans, contracts, or photos, so customers have the information they need. Then, email a copy from the app or let customers accept and sign right on your phone.
2. Skip overpriced, time-wasting legacy solutions
One thing you're sorely lacking is time. Accounting software provides construction subcontractors with tools that save more of your team's most precious commodity: time. Let's look at why you should avoid costly platforms and improve productivity through billing efficiency.
Avoid expensive ERPs when possible
The goal of enterprise resource planning (ERP) is to gather all the users of your business tools in one virtual room and facilitate workflow and solidarity between departments, like human resources and finance. Companies can experience disjointed operations and communications breakdowns from using outdated legacy systems, so they bring in a software suite aimed at integrating processes and unblurring departmental lines.
With software modules that promise to streamline processes across your operation, an ERP sounds like the answer to all your organizational issues. Sure, it's simple enough in theory. But in practice, launching an ERP and maintaining the IT infrastructure calls for a full-scale commitment to change and a move away from your current style of operations. A successful ERP rollout can take 21 months on average before you can complete the implementation, quantify results, and calculate a return on investment. Budgets for ERP are significant, and depending on scale, can run anywhere from several thousand to more than $100,000—a hefty price tag for your landscaping business.
By contrast, cloud-based accounting software poses much less capital risk to your company. You can implement these solutions without additional cost, manage them from the cloud, and pay for the value you need.
Dashboards and user interfaces in accounting software can be much easier to navigate. Standardized reports instantly provide insights into costs and profitability on current projects. Team members with non-accounting backgrounds can learn to use the platforms in weeks rather than months, and produce greater results, faster. Plus, apps or specific industry modules can be added to your accounting software.
Think twice before committing to the expensive, convoluted process of implementing an ERP. You may realize you can get more out of customizing an end-to-end accounting software solution by using apps available in an ecosystem that are tailored to your company's unique business model. For example, some accounting solutions integrate with apps such as TSheets, Builder Prime, Buildertrend and CoConstruct.
Save time with useful features built to improve productivity
Billing efficiency is essential for maintaining your cash flow. Sending out invoices sooner sets your subcontractor company up to get paid faster. Lower error rates leave your team with fewer problems and more cleared accounts.
However, manual monthly billing can take copious amounts of time that could be better spent doing other revenue-generating activities. This is when batch invoicing becomes valuable. Batch invoicing within accounting software enables your team to generate multiple invoices from a single-entry input, as opposed to manually entering information per individual invoice.
Batch invoicing also helps cut down on errors, allowing your team to work on a set schedule for creating and sending invoices, and provide clients with a templated format that is easy to read and easy to pay. By building invoices for a set list of items, your accounts receivable team can review this information and gain valuable insight regarding the type of work you're doing the most, the work generating the most revenue, and the types of work that might be underperforming.
3. Ask about software migration assistance
Today's competitive marketplace requires subcontractor companies to transition to modern systems. Most accounting teams are stuck using outdated platforms to run their businesses. Subcontractors can migrate to a well-integrated, cloud-based system to boost their business productivity.
Get a step-by-step migration workflow
As a rule of thumb, accounting expert Lynda Artesani believes it takes 90 days to institutionalize good software. Here are the steps to migrate your accounting workflow during those 90 days:
Pick a cutover date: Everything after that date will be in the new software.
Export billing data: Prior to the cutover date, you will export names, addresses, and any other information to your new software.
Onboard all of your users: In less than 30 minutes, you get users set up and familiar with the software.
Bill your final invoices in your old application: This step will create open balances in your accounting software.
Implement the new software: During the course of the first month, users will add time and the accounting team will polish the financials (e.g. adding AR balances, setting up trust ledgers, establishing a chart of accounts).
Run your first invoices: It typically takes 30-35 days after the cutover date.
By the third billing cycle, you will have implemented your company's new billing workflows, and each month will be easier than the previous one.
4.
Is training offered to help with organizational buy in?
According to TechRepublic, 94% of senior business leaders describe digital transformation as a top priority. Yet, up to 84 percent of digital transformations will fail to meet their objectives. Internal alignment is one of the core reasons for this disconnection in technology adoption.

How can you ensure your software spend gets the most utilization then? Everyone in your company with some financial responsibility should be proficient in using your accounting software.
To demonstrate the benefit to various teams, it's important to emphasize the impact more modern IT processes will have on the daily job tasks of individual teams. For example, your landscaping business can track labor costs by project—whether land grading, lawn maintenance, or garden designs—and analyze your profit margins across all jobs.
Earning buy-in ensures that everyone on your team has what they need, and a chance to weigh in on when they need it. It's the detail many subcontractor businesses would prefer to ignore, but it's also the strategy that leads to improved efficiency and increased productivity. And with effective tools that provide visibility and insights to stay ahead of the curve, your financial operations can become a competitive advantage.
5.
What reporting features are offered to make better business decisions?
With accounting software dashboards, your team can assess business performance, monitor trends, and identify opportunities.

Assess key metrics at your fingertips
The cash flow dashboard allows you to view and compare cash flow across multiple categories over time. In a detailed view, you'll see what's driving changes to cash flow, like operating, investing, or finance activities.
No more running multiple Statement of Cash Flow reports just to keep an eye out for changes. Now, you can quickly identify patterns of cash flows through trend lines and graphs, then drill down to review changes in cash for selected accounts and use that as a basis for further investigation.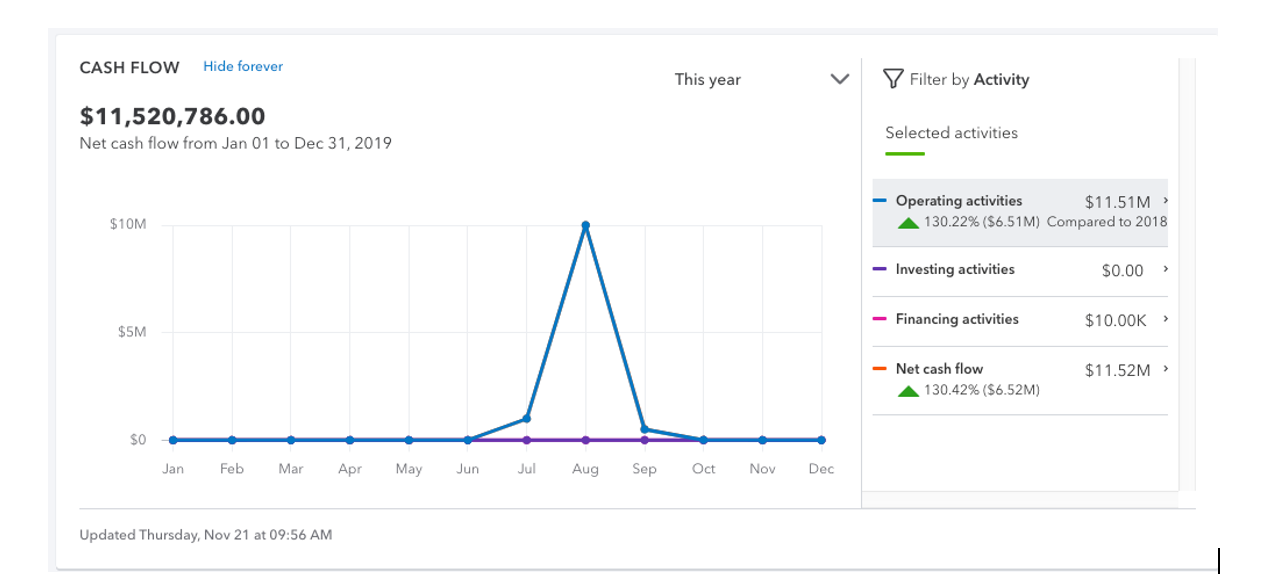 Intuit

A cash flow dashboard also keeps you aware of critical business performance changes. You'll receive alerts to review whether transactions were entered correctly whenever cash flow numbers differ significantly from baseline numbers.
Visualize revenue trends to identify opportunities
A revenue stream dashboard is an interactive report that automatically highlights your top three moneymakers in your accounting software. Only visible to master admins or users with access to reports, you can track revenue by multiple channels, including products/services, classes, locations, and projects.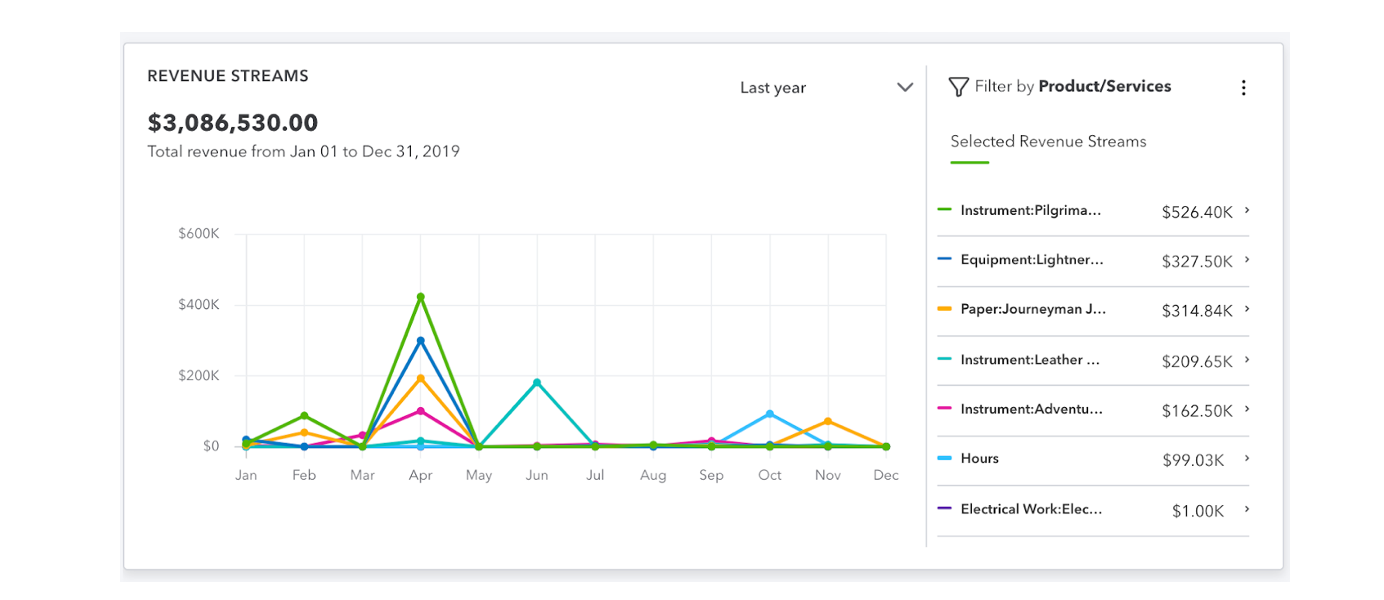 Intuit

You also can find data on a specific customer, location, and class. It will show you each selected revenue type over the chosen timeframe in a chart. It will display them by the top performer: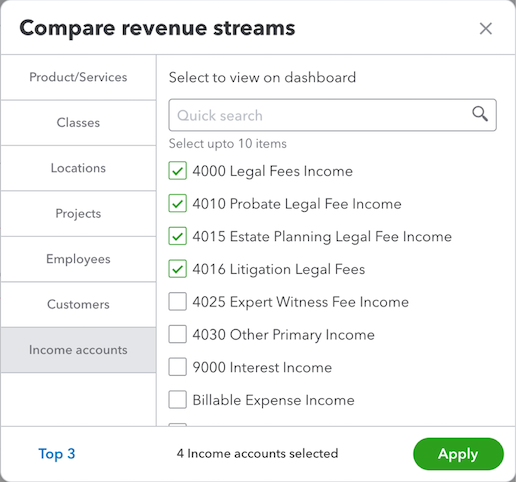 Intuit

One of the best features of a revenue stream dashboard is the ability to use historical data to create a comprehensive plan for your future. For instance, you can see the historical trend lines in your roofing business, giving you a quick illustration of variables like seasonality, natural disasters, or other patterns.
The revenue stream dashboard helps your subcontractor company dive into the details of your business in an easy-to-understand approach. And, the graphical representations of this information make it simple to show senior management the financial status of the business.
Choose first-class construction accounting software
Your subcontractor business requires greater versatility in its accounting solution, and it needs to be equipped with robust functionality and focused features. Cloud-based accounting software is a powerful and flexible option designed for subcontractor businesses like yours. 
Dominic Vaiana is a writer and bibliophile based in St. Louis. In addition to writing for Intuit QuickBooks, Dominic has developed content and campaigns for global brands such as Mastercard, GoDaddy and InVision.

This content is for information purposes only and information provided should not be considered legal, business, accounting, financial or tax advice or a substitute for obtaining such advice specific to your business. Additional information and exceptions may apply. Applicable laws may vary by state or locality. No assurance is given that the information is comprehensive in its coverage or that it is suitable in dealing with a customer's particular situation. Intuit Inc. does it have any responsibility for updating or revising any information presented herein. Accordingly, the information provided should not be relied upon as a substitute for independent research. Intuit Inc. cannot warrant that the material contained herein will continue to be accurate, nor that it is completely free of errors when published. Readers should verify statements before relying on them.