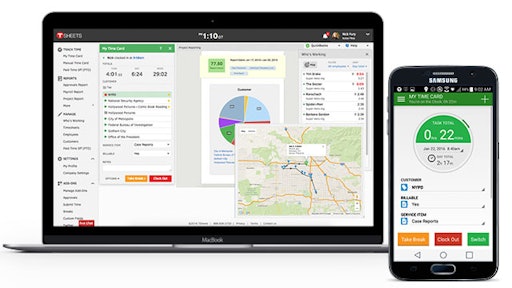 Mobile app: TSheets Time Tracker
Developer: TSheets.com LLC
Cost: $16 base fee/ $4 per user per month
Available on: Apple and Android devices
TSheets is a cloud-based time tracking and scheduling mobile app that allows field employees to clock in and out from the jobsite with their own mobile devices. In addition to time tracking, the app also allows contractors to change job codes, edit timesheets, see changes to the schedule and add notes.
Foremen and supervisors can also use the CREW feature which allows them to clock in an entire crew in a matter of seconds. The CREW feature also lets supervisors keep track of who is on the clock, where they are working and what they are working on.
TSheets tracks time and GPS points even it there is no cell or Internet service. The app then automatically syncs when back in service.
The in-app scheduling feature allows contractors to create or modify the schedule through drag and drop of shifts, assign jobs, see who's working and sends alerts to managers if employees haven't clocked in for a job or shift as scheduled.
Schedules can be created based on employee shifts or by project. Employees receive real-time text, push or email notifications of new shift or job assignments and changes.
Contractors user TSheets mobile app are seeing results. "Using TSheets, we save approximately $2,000 per month, have better data quality, higher morale and lower frustration," according to Leak Eliminators.
Another user, Elite Electrical, has decreased the time it spends on payroll processing from four hours down to 15 minutes with the use of TSheets.
App features:
Dial-in, text and Twitter clock-in options
"Who's Working" feature to see where employees are located and who's working on what in real time
Breaks feature lets managers know when employees are on a break
Map view lets you see where employees are located with GPS tracking
Integrates with QuickBooks, Square, Gusto and more
Push, text and email alerts triggered if employees don't clock in as scheduled or approach overtime limits
Real-time reports in multiple formats including PDF, CSV, HTML and online
Day and week reports; breakdown of employee hours by employee, job, customer or location
Detailed time log for labor disputes and audits
Track time against multi-level job codes, projects, locations, clients and more
Edit, delete or approve timesheets
Track vacation, sick or holiday accruals