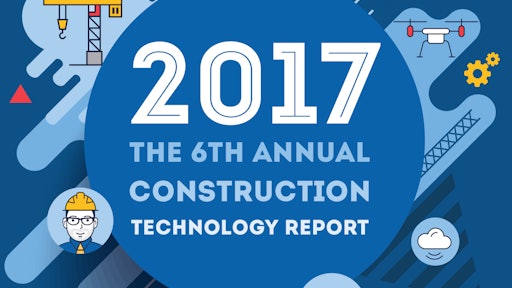 JBKnowledge
JBKnowledge released its annual Construction Technology Report released December 29, 2017. The report published in partnership with the Mechanical Contractors Association of America (MCAA), the Construction Financial Management Association (CFMA), and Texas A&M University's Construction Science Department, compiled data on the hard-hitting questions for construction companies on technology workflows, solutions and spending. Respondents reported what software and strategies they're using to increase efficiency and enhance the construction process. The 6th Annual ConTech Survey was conducted in July 2017, and distributed to over 60,000 construction industry professionals via email, social media, advertisements, and online publications. 2,690 professionals responded.
Respondents reported on topics regarding the structure of their IT departments, budgeting, workflow processes, software choices, as well as their plans for a more a tech-savvy future. With the rising necessity and accessibility of tools such as apps for construction, drones, and worksite sensors it's surprising to learn how many companies are still skeptical of spending on new technology.
"The Construction Technology Report provides our members with a snapshot of where the industry is right now, what tools are being used and where they should allocate more resources towards improvement," said Director of Construction Technology for the Mechanical Contractors Association of America, Sean McGuire.
Download a complimentary copy of the 2017 Construction Technology Report (and past reports).