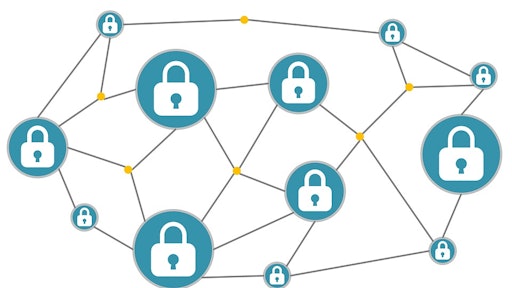 A new report issued June 19 by software security firm McAfee warns that the rapid adoption of blockchain technology by businesses and government can increase their cybersecurity vulnerabilities. The transportation industry is being viewed as a potential adopter of blockchain technology, the cyber payment method popularized by the cryptocurrency Bitcoin.
Blockchain Transactions Poised to Revolutionize the Construction Industry
"Blockchain can have a revolutionary impact in solving very real problems, but only so long as security does not fall victim to urgency in the rush to adopt the technology," noted Raj Samani, chief scientist at McAfee, in the report.
"Given blockchain's potential for creating value, and the tremendous enthusiasm to implement it, cybercriminals will seek every opportunity to strike at all available technical and human vulnerabilities in the emerging blockchain ecosystem."
"Governments, cybersecurity vendors, and businesses must be diligent in understanding the threats and minimizing the risks," Samani added. "Without adequate education for users and industry, secure implementation best practices, and strong technical security standards, the widespread adoption of blockchain by major industries and governments could end up costing billions of dollars and impacting millions of people."
Blockchain Poses Murky Legal Waters for Construction
McAfee's report indicated that demand for blockchain continues to grow among some of the most established industries worldwide, including the government, finance, retail, health care, and automotive sectors, with the overall market for this technology expected to reach $9.6 billion by 2024.
Yet, according to the McAfee report, "bad actors" have aggressively sought to take advantage of the rapid adoption of cryptocurrencies and the early adopters who use them across four key "attack vectors" that include: phishing or fraud schemes; malware; implementation exploits; and technology vulnerabilities.
"Many attacks spanning these categories apply both old and new cybercrime techniques and have proven highly lucrative for cybercriminals," Samani said.
Those concerns come at time when the transportation industry is being viewed as a potential adopter of blockchain technology, according to an 11-page report by USDOT's Volpe Center, as it can be used to streamline a range of transportation transactions such as toll payments.
"One company recently demonstrated how a vehicle and a highway toll booth could be connected to make seamless payments using a blockchain, radio-frequency identification, and a file-sharing protocol," the Volpe Center noted in its report. "This proposed system would be much less expensive than current toll road payment systems, which need large server infrastructures for accounting, identification, and payment processing."
The agency said it is the generation of such "smart contracts" that make blockchains applicable beyond finance, to industries like transportation.
"Smart contracts are software, not actual contracts. But, like a contract, they set parameters that parties to a transaction agree upon. Terms of the agreement are written directly into lines of code," according to the Volpe Center report. "Before blockchains, smart contracts would not have been possible because parties to an agreement would have likely maintained separate databases."