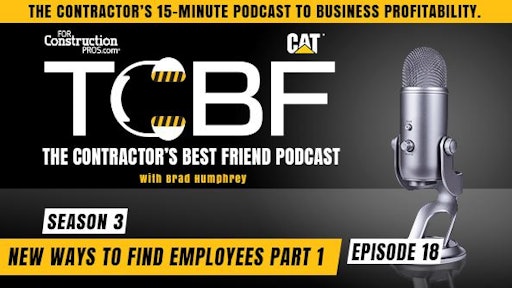 New Outlets to Find Workers
The #1 problem amongst contractors is labor, with a shortage of over 1 million workers in the industry. Finding talent can be difficult, but the team discusses new ways to find employees including Veterans and the younger generation.
Listen now, as Brad Humphrey  and the Caterpillar experts, Lonnie and Jason, address how to find AND keep labor as well as changing the social stigma surrounding the construction industry.
Moderated by:
Brad Humphrey, The Contractor's Best Friend, Pinnacle Development Group - Founder
Brought to you by: 
Jason Hurdis, Caterpillar Inc, Global Market Professional – Quarry & Aggregates Industries
Lonnie Fritz, Caterpillar Inc, Senior Market Professional – Construction Industries
NEW EPISODES EVERY OTHER WEDNESDAY 
Subscribe on iTunes: itunes.apple.com/us/podcast/the-c…d1406479825?mt=2 
Listen on Stitcher: www.stitcher.com/s?fid=205707&refid=stpr 
Leave a review: itunes.apple.com/us/podcast/the-c…d1406479825?mt=2
Tell us what you think of the podcast series, take our survey: www.surveymonkey.com/r/DSVVLX9 
Listen to more construction news on the Construction News Tracker at www.forconstructionpros.com
Caterpillar experts are here to answer your questions: https://www.cat.com/en_US/by-industry/construction/tipstechandtools.html